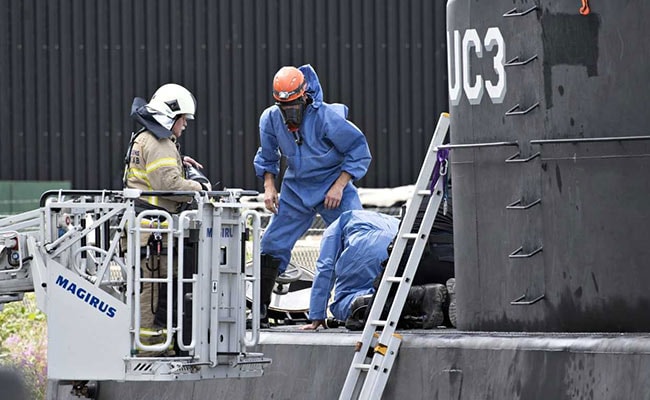 Copenhagen, Denmark:
A Swedish journalist, an eccentric Danish inventor and a grisly death aboard a homemade submarine: Peter Madsen goes on trial on Thursday accused of murdering Kim Wall, chopping up her body and tossing it into the sea.
Here are the main events in the gruesome case that has captivated the world:
The Interview
Kim Wall, a plucky 30-year-old freelance reporter criss-crossing the globe for unique, quirky stories, boards self-taught engineer Peter Madsen's homemade submarine, the UC3 Nautilus, in a Copenhagen harbour on August 10, 2017, to interview him for a story.
But she never returns. Wall's boyfriend, with whom she had planned to move to China, reports her as missing on August 11.
The Nautilus is found that same day, sinking, as Madsen, 47, is rescued from the water.
The eccentric and well-known figure in Denmark tells authorities he dropped Wall off in the harbour the night before and that a technical problem caused the vessel to sink.
But the Danish authorities are not convinced. Madsen is detained for negligent manslaughter under particularly aggravating circumstances on August 12.
Investigators believe the 60-foot (18-metre) vessel was deliberately sunk.
Buried At Sea
Madsen changes his story on August 21 and says Wall died in an accident onboard his vessel. Having panicked and contemplated suicide, he subsequently "buried her at sea in an undefined location of the Koge Bay" south of Copenhagen.
Two days later, Copenhagen police confirm that a headless torso found in Koge Bay is Wall's. The head and limbs had been deliberately cut off. The torso had been attached to a metal object to weigh it down.
Madsen is charged with indecent handling of a corpse during a police hearing on August 24. He insists she died in an accident when a hatch hit her on the head while onboard the vessel.
On October 3, investigators say they have found a hard disk in Madsen's workshop that contained fetish films in which women were tortured, decapitated and burned alive. Madsen claims the hard drive is not his.
Prosecutors also reveal autopsy results which show Wall was stabbed 14 times in her genital area and once in the chest before her death.
After an extensive search in Danish waters, Copenhagen police announce on October 7 they've found Wall's head, legs, a sweater and a knife in Koge Bay.
Forensic results show no sign of a fracture on her skull.
Brought A Saw
Danish divers find both of Wall's arms on November 21 and 29, respectively, near the same area where her other body parts were discovered.
A January 24 charge sheet says Madsen tied Wall up by the head, arms and legs before beating, "stabbing and cutting her".
Prosecutors say Madsen, who faces a life sentence if found guilty, "brought a saw, knife, sharpened screwdriver, straps, strips and pipes" on board the vessel with the intention of killing Wall.
Neither the cause of death nor the motive has been established, but investigators believe Wall was strangled or had her throat cut as part of a sadistic sex crime.
Madsen has changed his story several times about how he claims Wall died.
(This story has not been edited by NDTV staff and is auto-generated from a syndicated feed.)