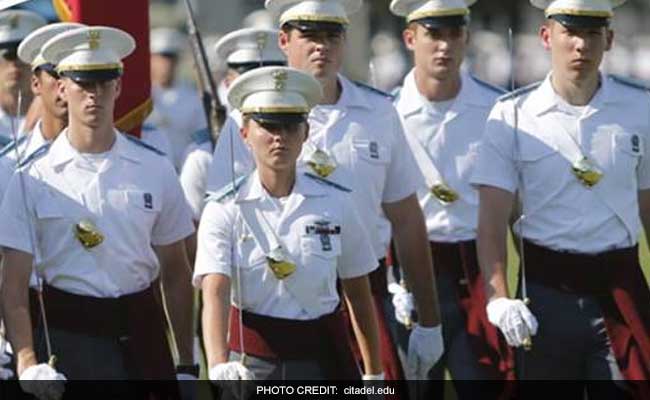 The Citadel is considering a request from an admitted student that she be allowed to wear a hijab in keeping with her Muslim faith, a move that would be an unprecedented exception to the school's longstanding uniform requirements.
If the request for the traditional Muslim hair covering is granted, it apparently would be the first exception made to the Citadel's uniform, which all cadets at the storied public military college in South Carolina are required to wear at nearly all times. (At beaches, for example, college rules stipulate that, "Cadets will change into appropriate swimwear upon arrival and change back into uniform when departing.") A spokeswoman said that to her knowledge, in its nearly 175-year history, the school has never granted a religious, or other, accommodation that resulted in a change to the uniform.
As word spread on social media, students, alumni and others responded strongly to the idea of an exception being made at an institution where uniformity, discipline and adherence to rules are defining values, where loyalty to the corps is paramount and individual preferences are trivial.
That the first exception might be for a Muslim student was an additional provocation for some -- and welcome symbolism for others -- in the midst of a national discussion about Islam in U.S. culture.
Republican presidential front-runner Donald Trump has called for "a total ban" on Muslims entering the U.S. because he considers the religion one of hatred and violence, while President Obama has said the fight against extremist terrorism is not a fight against one of the world's largest religious faiths.
Nick Pinelli, a cadet working in marketing and DJing who is expecting to graduate in May, wrote a long post about the issue on Facebook Wednesday with his objections, including:
"The Citadel should be able to tell the prospective student to wear what they tell her to wear. Not because they are concerned with the religion she is trying to practice or the speech expressed by doing so, but because they are concerned with the execution of an essential part of the system the Citadel puts in place."
He pointed out that he doesn't speak for the Citadel (which he doesn't blame for considering the request) or for the Trump campaign, for which he works, and wrote: "If I valued liberal ideology, I would go to UC Berkeley. I'd wear, say, and do whatever I wanted ... . If I valued a conservative ideology and wanted to challenge myself in a military environment, I would go to the Citadel. It's no secret that you can't wear what you want when you're at the Citadel."
The college, founded in 1842, has won praise for its academics as well as the leadership skills taught to its 2,300 or so undergraduates, about 170 of whom are women (the school began admitting women in 1996). The college has several Muslim students enrolled now, a spokeswoman said.
She said that to her knowledge, the admitted student had not asked for other accommodations.
© 2016 The Washington Post
(This story has not been edited by NDTV staff and is auto-generated from a syndicated feed.)