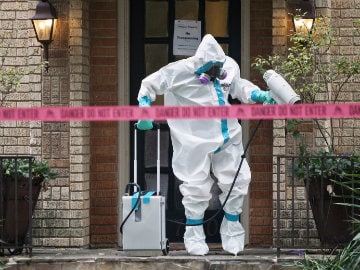 Dallas:
The Texas hospital accused of mishandling care for the first Ebola patient diagnosed in the United States is hitting back at critics with an aggressive public relations campaign aimed at rehabilitating its battered image.
Texas Health Presbyterian Hospital, where a Liberian man was treated for Ebola and later died and where two nurses have been infected with the virus, has weathered intense criticism from the public, healthcare workers and politicians over what have been characterized as lax safety protocols.
But on Thursday night, the hospital issued a strongly worded statement that says workers followed proper safety protocols and shifts some blame to the U.S. Centers for Disease Control and Prevention (CDC).
"The CDC guidelines changed frequently, and those changes were frustrating to them (health workers) and to management. Nonetheless, they endeavored to remain compliant with what was communicated as the most recent and appropriate guideline," the statement said.
The New York Times earlier reported that Texas Health Presbyterian has hired public relations firm Burson-Marsteller to help handle the crisis. A hospital spokeswoman did not immediately return a call seeking comment.
The hospital, known in Dallas as "Presby," is also using social media to reassure residents and workers. On Thursday it posted a video of Ebola-infected nurse Nina Pham in her hospital bed shortly before she was flown to Bethesda, Maryland for treatment at a National Institutes of Health facility. Appearing cheerful, she tells her doctor, suited in protective gear, "I love you guys."
The video post was made at Pham's request, according to the hospital.
And on the Twitter feed of Texas Health, the hashtags #presbyproud and #supportthescrubs are being used, along with a You Tube video featuring nurses from the hospital who talk about the safety of the facility.
Some are doubtful. Eleanor Jackson, has an infection on her leg, and a friend suggested she seek care at Texas Health Presbyterian, which is only a block from her house.
"I said there was no way I was going there for treatment!" said Jackson as she waited for a bus.
Dr. Daniel Varga, chief clinical officer of Texas Health Resources that operates the hospital, apologized for mistakes in the treatment of the Liberian man, Thomas Eric Duncan, at a congressional hearing on Thursday.
Duncan, who died on Oct. 8, was initially sent away from the hospital with antibiotics despite telling a nurse he had traveled from West Africa. He was taken back two days later in an ambulance.
Still, Medicaid statistics show the hospital is near or above average on a number of factors, including heart and pneumonia care and surgical care protocols, but it is rated below average on emergency room-related wait times.
"Presbyterian Hospital, like all hospitals in Dallas and across the country, makes mistakes," said Jeffrey Rasansky, a personal injury lawyer in Dallas who has filed lawsuits against Presbyterian on behalf of patients. "There's nothing special or different that would set it apart."
© Thomson Reuters 2014