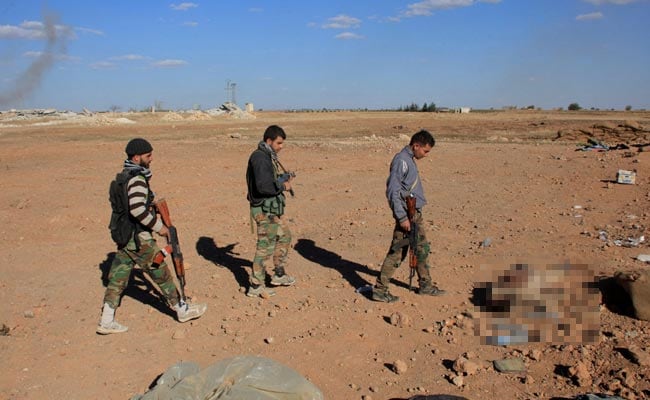 Kweyris, Syria:
Syria's army broke a more than year-long jihadist siege of a military air base in the country's north Tuesday, scoring its first major breakthrough since Russia's air campaign began.
Troops, backed by pro-government militia, broke through the Islamic State (IS) group's siege of the Kweyris military airport in northern Aleppo province, a photographer working with AFP said.
A group of soldiers penetrated ISIS lines west of the airport and reached government troops inside the base, firing into the air in celebration.
Experts said the base could be used by Russian planes in their air war against rebels fighting the regime of President Bashar al-Assad, aiding their efforts to re-take Syria's second city of Aleppo.
Russia launched air strikes in Syria in support of Assad at the end of September, but the regime has still struggled to advance against opposition forces and securing Kweyris would mark their first major victory in the Aleppo area.
But the advance came as at least 22 people were killed in one of the bloodiest mortar attacks on the regime's coastal bastion of Latakia in the four-year conflict.
As the bloodshed continued, the United Nation's peace envoy for Syria urged world powers to build on the "momentum" of new international talks to end the conflict, which has killed more than 250,000 people.
Some 20 countries and international bodies will meet in Vienna Saturday to push forward a peace plan for Syria that would include a ceasefire between Assad's regime and some opposition groups.
The meetings must "bring some deliverables to the Syrian people -- one of them should be reduction of violence", Staffan de Mistura told reporters after briefing the UN Security Council.
"My job is to make sure that big countries like the Russian Federation, Saudi Arabia and Iran come around the table and come up with a political process."
Aleppo breakthrough
Syria's state television reported the Kweyris breakthrough against IS, broadcasting live from outside the airport and saying a "large number of IS terrorists" were killed, without providing details.
Loyalists and ISIS jihadists remained locked in fierce clashes to the airport's north, east, and west Tuesday evening, said Rami Abdel Rahman, head of the Britain-based monitor the Syrian Observatory for Human Rights.
IS surrounded Kweyris in spring 2014, tightening a siege that rebel groups began in April 2013.
The counter-offensive began at the end of September, with support from Russian warplanes, Iranian troops, fighters from Lebanese Shiite militia Hezbollah and the pro-government National Defence Forces militia, Abdel Rahman said.
If secured, it could be used by Russian planes currently flying out of Hmeimim in Latakia province, he said, adding: "In particular, it will help their efforts to retake all of Aleppo city."
Russia's air force has been conducting strikes across Syria since September 30 against what it calls "terrorist targets" in a move that sparked tensions with the Western powers.
Moscow says its air strikes primarily target ISIS jihadists, though the United States and its coalition partners say Russia is mainly attacking more moderate groups fighting Assad.
On Tuesday, US Air Force General Herbert Carlisle said communications with Russia have vastly improved since the start of Moscow's bombing campaign, with twice-daily talks and a hotline set up.
'Blood everywhere'
The regime's breakthrough against ISIS came only hours after one of the deadliest attacks in the conflict in the regime's seaside stronghold in Latakia.
At least 22 people were killed and 62 wounded in mortar fire on eastern neighbourhoods of Latakia city, state television reported.
A security source said the attack took place near Latakia's Tishreen University, where many students were gathered.
"I saw blood everywhere and people running in every direction," said Abir Selman, a 24-year-old literature student, who was waiting for the bus when the mortars struck.
"I passed by a corpse that had nothing left except for its legs."
One person was killed and five wounded in a mortar attack on residential areas of Damascus, the state broadcaster said, while the Observatory said nine people were also killed in government rocket fire on the flashpoint town of Douma.
Meanwhile, France said Tuesday it had stepped up its bombing campaign against ISIS's oil infrastructure with new raids in eastern Syria as part of its third wave of strikes as part of a US-led air campaign.