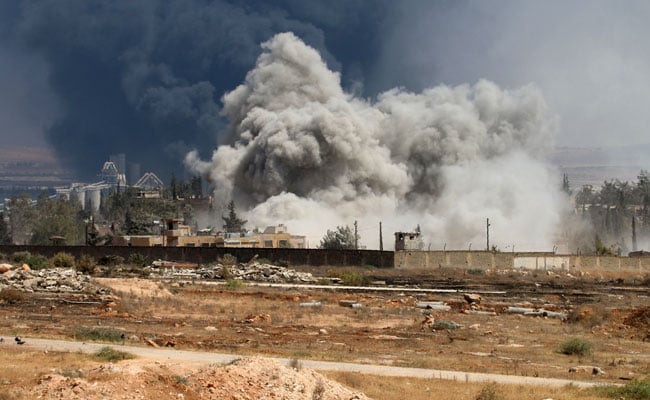 Aleppo, Syria:
Syrian opposition fighters on Friday launched an assault on government forces to break a months-long siege of the rebel-held neighbourhoods of east Aleppo, a rebel spokesman told AFP.
The assault started with a barrage of rocket fire into the western government-held side of the battered city that killed at least 15 civilians and injured dozens more, a monitor said.
Abu Yusef Muhajir, a military commander and spokesman for the powerful Ahrar al-Sham rebel group, said the operation involved an array of opposition factions.
Rebel groups "announce the start of the battle to break the siege of Aleppo, which will end the regime occupation of western Aleppo and break the siege on the people trapped inside," he said.
The Britain-based Syrian Observatory for Human Rights said rebel groups were firing rockets into west Aleppo as well as at government positions east of the city including the Nairab military airport.
Rebels also fired rockets into Latakia province, a coastal regime stronghold, hitting areas near the Hmeimim military base that is used by government ally Russia.
Rocket fire into Latakia killed at least one person and wounded six others, the Observatory and state media said.
Rebel groups are seeking to break a government siege of east Aleppo that began in July and has led to food and medical shortages.
Opposition forces briefly broke the siege in August, but no aid has entered the east since July.
Last month, government forces launched an operation to recapture the east, backed by Russian air power.
The operation has killed hundreds of civilians and destroyed infrastructure including hospitals, prompting international condemnation.
(This story has not been edited by NDTV staff and is auto-generated from a syndicated feed.)