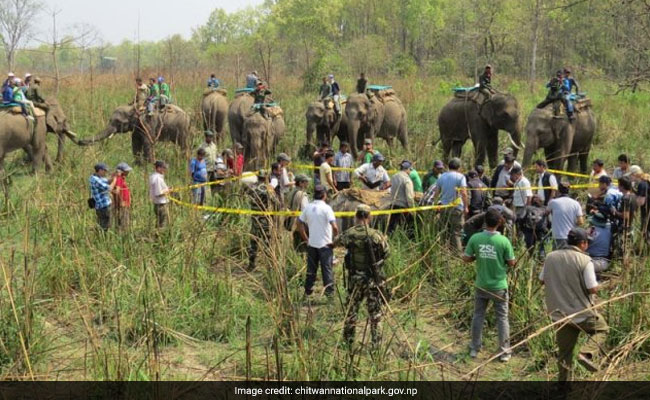 Chitwan, Nepal:
150 kilometers, four hours and a few tranquilizers darts later, Nepal brought back four one-horned rhinoceros that were swept away across the Indian border to settlements nearby as a result of the recent monsoon floods, officials said on Wednesday.
At least six endangered rhinos of Chitwan National Park (CNP), Nepal's largest habitat of rhinos, were swept away after the floods along Rapti river this month, Xinhua news agency reported.
In an effort to bring back the dislocated rhinos from the jungles and settlements across the India-Nepal border, Chitwan National Park launched a special operation.
Soon after floods in southern Nepal that killed over 120 people, officials had relocated a partially alive two-year-old baby rhino along with rescuing four others that were alive.
Early Wednesday morning, the Chitwan Park officials released the fourth rhino into the park that was rescued from the Valmiki Tiger Reserve of India.
"This is the fourth rhino that we have rescued alive from nearby area of Indian Reserve. It is a male calf of around two-year-old and is completely healthy. Now, we are putting efforts to rescue the fifth one," Chiranjivi Prasad Pokharel, chief of National Trust for Nature Conservation Chitwan, told Xinhua.
Of the four rhinos that were rescued, three were female ones and one was a male rhino.
Officials said a truck with a wooden cage was specially that travelled over 150 km from the park to reach the settlements in India.
"It took at least four hours to bring back the rhinos after tranquilizing them through a dart," Mr Pokharel added.
According to the national park officials, the rescued rhinos were in good physical state.
The Department of National Parks and Wildlife Conservation said that there are a total of 645 rhinos in Nepal, of which over 600 are seek habitation in Chitwan National Park.