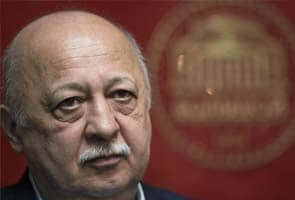 Moscow:
The Russian culture ministry on Tuesday fired the director general of the famed Bolshoi Theater that has been mired in scandal since an acid attack on its artistic director.
Anatoly Iksanov would be replaced by Vladimir Urin, head of another major ballet and opera troupe, the Stanislavsky and Nemirovich-Danchenko Music Theater, said the culture minister, Vladimir Medinsky.
He said that a "difficult situation at the theater" was the reason for the dismissal. Iksanov, however, was offered to work as Medinsky's adviser in the ministry.
The Bolshoi has been shrouded in scandal for years but a fierce conflict erupted in January when an assailant threw acid into the face of Sergei Filin, the artistic director of ballet.
In March, police arrested Bolshoi soloist Pavel Dmitrichenko over his involvement in the attack. Dmitrichenko admitted that he had agreed to an offer from an acquaintance to rough up Filin, but he insisted that the man had used acid on his own initiative. Despite Dmitrichenko's confession, many in the ballet company have stood by him, saying they do not believe him capable of staging such a crime. About 300 dancers and staff, led by principal dancer and Iksanov's key opponent Nikolai Tsiskaridze, signed an open letter claiming that Dmitrichenko had slandered himself under police pressure.
The Bolshoi reopened in 2011 after a $1 billion renovation. Despite the lavish sums, some of the work was of poor quality, with cracks appearing in the walls and gold leaf crumbling away.
Iksanov has been at loggerheads with many of the troupe's famous dancers, including Tsiskaridze who accused him of mismanaging the Bolshoi's reconstruction, ruining its repertoire and abusing dancers' rights. Iksanov and his backers have dismissed the criticism.