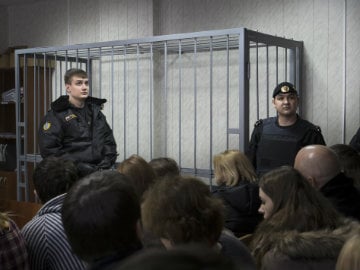 Paris, France:
A European court on Thursday ordered Russia to pay damages for putting defendants in metal cages in court, a practice it condemned as "degrading treatment." The enclosures have held opposition figures, Greenpeace activists and untold numbers of less-prominent suspects across the country.
The European Court of Human Rights ordered Russia to pay 16,000 euros total to plaintiffs Alexander Svinarenko and Valentin Sladnyev. While the ruling technically only applies to the two plaintiffs and does not force Russia to abolish the cages, it puts pressure on Moscow to do so by finding that they violate the European Convention of Human Rights, said court spokeswoman Nina Salomon.
The ruling could prompt others who have been held in Russian courtroom cages to file similar lawsuits.
The European court's rulings are binding on countries that are party to that convention, including Russia. If they aren't followed, Russia could eventually be kicked out of the Council of Europe, the continent's human rights body. Membership in such institutions is seen as important to international legitimacy.
Russian courtrooms are almost uniformly equipped with cages for defendants, a legacy from the Soviet era. Defendants who are not deemed too dangerous are normally allowed to sit on a bench instead.
This was the first case involving Russian defendants' cages to reach the Grand Chamber of the court, based in Strasbourg, France. The chamber's language was unusually sharp, calling the cages "an affront to human dignity" and "incompatible with the standards of civilized behavior that were the hallmark of a democratic society."
Tycoon Mikhail Khodorkovsky, who is estimated to have spent about two years in courtrooms facing charges of financial wrongdoing, was kept in a metal cage during his first trial. He was kept in a glass bullet-proof cage during his second trial after he complained to the European court.
Among other defendants who have been held in metal cages are Greenpeace activists, Bolshoi Ballet dancer Pavel Dmitrichenko and the members of punk group Pussy Riot.
The plaintiffs in the case handled Thursday, Svinarenko and Sladnyev, went through years of Russian legal proceedings involving charges of extortion and violence. The court also found that the proceedings violated the men's right to a fair trial within a reasonable time.