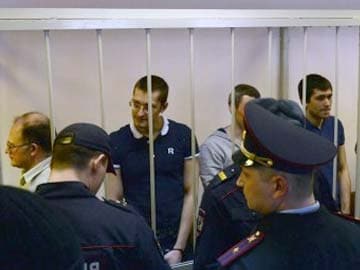 Moscow:
Russian police detained dozens of protesters on Monday outside a Moscow courthouse where a judge was expected to sentence eight defendants convicted of attacking police at a 2012 demonstration against President Vladimir Putin.
Hundreds of people chanting "Freedom" came to support the defendants in the "Bolotnaya" case, who Kremlin critics see as victims of a clampdown on dissent during Putin's third term.
Relatives of the defendants fear the recent upheaval in Ukraine, where several police officers were among the dead in a bloody standoff the Kremlin blames on opposition leaders and the West, would prompt the Russian court to send a firm signal by imposing long sentences.
Demonstrators outside the courthouse shouted "Maidan" - a reference to the square in Ukraine's capital at the heart of anti-government protests that drove President Viktor Yanukovich from power - and called the Russian police "Berkut" after the Ukrainian riot police that battled protesters in Kiev.
The judge on Friday found the defendants guilty of rioting and attacking police at a protest on May 6, 2012, the day before Putin, in power since 2000, returned to the presidency after a stint as prime minister. The defendants blame police for the clashes that erupted at the rally and pleaded not guilty.
As the judge continued reading the verdict on Monday in the courtroom, where the male defendants were handcuffed in a cage, police outside waded into the crowd, barred from approaching the court by metal barriers, and seized demonstrators one by one.
Moscow police said more than 100 people were detained for attempts to violate pubic order, Interfax news agency reported.
Among those detained was Alexei Navalny, who emerged from a series of street protests in 2011-2012 as the top opposition leader. He is serving a five-year suspended sentence on a theft conviction he says was Kremlin revenge for challenging Putin.
"They have put me in an avtozak," Navalny said on Twitter, referring to one of several police vans and buses that police were bundling detainees into near the courthouse.
Prosecutors have asked for sentences of five to six years for the defendants, seven men and a woman, most of them in their 20s. Putin denies using the courts as a political tool but has said people who attack police must be punished.
© Thomson Reuters 2014