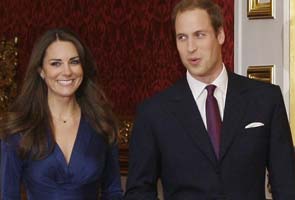 London:
The royal wedding of British Prince William and his longtime girlfriend Kate Middleton, expected to be the marriage of the decade, is likely to be broadcast live in 3D.
Several broadcasters are in discussions with the royal family about the three-dimensional coverage of the April 29 wedding from Westminster Abbey, the Daily Telegraph newspaper said today.
"We are very keen to explore the possibility of broadcasting the Royal wedding in 3D, and we have had some early discussions with royal officials regarding the options," the British daily quoted a BSkyB source as saying.
Citing a BBC source, the report also said that the Corporation has had talks with royal officials about 3D coverage of the wedding.
The wedding is set to be the first major British live event, apart from sporting fixtures, to be televised in 3D.
William, son of heir-to-the-throne Prince Charles and the late Princess Diana, announced his engagement to long-term girlfriend Kate last November.
As 3D cameras are much larger than conventional 2D equipment, the BBC, BSkyB and ITV are expected to pool their 3D coverage of the wedding if royal officials give the networks the go-ahead.
"We are very open-minded about the idea of 3D coverage, provided that the broadcast does not intrude on the ceremony in the Abbey," a royal aide was quoted as saying.
"We want to avoid a situation where cameras are in guests' faces and ensure that the couple don't feel like they are in a television studio," he said.
Viewers tuning in to watch three-dimensional coverage of the royal wedding will need special glasses and 3D-ready television sets.
In January last year, BSkyB became the first broadcaster in the world to show a live sports event in 3D when Sky Sports screened a football match between Manchester United and Arsenal to viewers equipped with a Sky+HD Digibox and 3D-ready televisions.
Several international television networks have subsequently broadcast major sporting events in 3D, including matches from the 2010 FIFA World Cup, last year's French Open tennis tournament and the 2010 PGA golf championship.