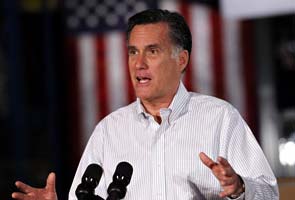 Washington:
White House hopeful Mitt Romney on Sunday urged the United States officials to do all they can to protect a Chinese activist who is said to have fled to the US embassy and has vowed to confront Beijing over human rights.
Campaigners say that Chen Guangcheng, a blind self-taught lawyer who exposed forced abortions under China's one-child-only policy, made a daring escape from house arrest and entered the US embassy, days before major US-China talks.
President Barack Obama's administration has refused all comment on Chen, with activists saying that the United States and China are quietly holding talks to resolve the highly sensitive case.
Mr Romney, the presumptive Republican nominee for President, did not directly criticize Mr Obama's handling of the case but raised concerns over the safety of the prominent activist and his family.
"My hope is that the US officials will take every measure to ensure that Chen and his family members are protected from further persecution," Romney, the former governor of Massachusetts, said in a statement.
"This event points to the broader issue of human rights in China. Any serious US policy toward China must confront the facts of the Chinese government's denial of political liberties, its one-child policy and other violations of human rights," Mr Romney said.
"Our country must play a strong role in urging reform in China and supporting those fighting for the freedoms we enjoy," he added.
Secretary of State Hillary Clinton has voiced concern about Chen in the past. The case is now bound to overshadow long-planned talks on Thursday and Friday in Beijing involving Mrs Clinton and Treasury Secretary Timothy Geithner.
Mr Romney has repeatedly attacked Mr Obama's stance of trying to work where possible with China. He has called for the United States to challenge the rising Asian power more aggressively over its trade, human rights and military policies.
Chen released an audacious video directed to China's Premier Wen Jiabao in which he said he suffered repeated beatings even after completing a four-year jail sentence. He voiced grave concern over his wife and young son who are still being held at the family's house in the eastern province of Shandong.
Representative Chris Smith, a Republican who has long sought to draw attention to Chen's plight, said that the "eyes of the world" were now on Wen as well as Clinton and other US officials as they visit China.
"Over the next few hours/days, whatever it takes, everything discussed in China between Secretary Clinton and Premier Wen, as well as their staffs, must be through the prism of the struggles, torture, escape and justice overdue Chen Guangcheng, his family and other human rights activists in China," Mr Smith said in a statement.
"Perhaps it is a gift that so many US leaders are there. They must push for human rights like never before," Mr Smith added.