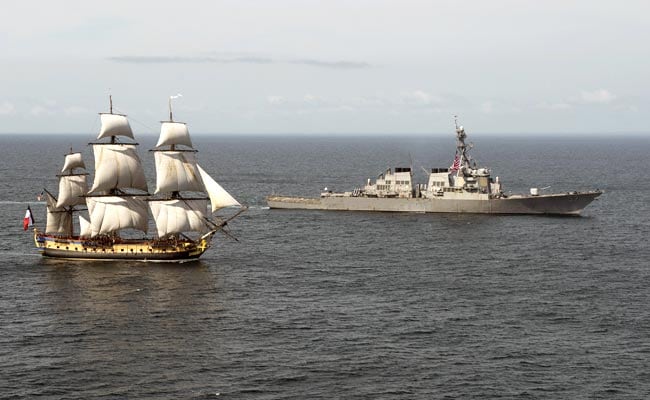 Yorktown, United States:
More than two centuries after the Hermione transported General Lafayette to America to rally US rebels battling for independence, a replica of the French frigate arrived today to the Virginia town where British forces eventually surrendered.
Marking Franco-American friendship, the Hermione announced its arrival at 8:21 am (1221 GMT) by firing 21 cannon rounds, with a 21-gun salute also fired from the US east coast.
In the minutes that followed, the entire crew came up on the deck while fireworks lit up a very gray sky.
Several hundred people braved a persistent drizzle to come cheer the stately ship.
The three-masted tall ship, whose predecessor made the same journey in 1780, left the French island of Aix on April 18 to embark on its 3,700-mile (6,000-kilometer) journey across the Atlantic.
"I've been waiting for this moment for 18 years. It's a very emotional moment," said Brigitte van den Hove-Smith, president of the group Friends of the Hermione.
On the shore, onlookers waved flags while fifes and tambourines rang out and various people walked about dressed in 18th century attire.
"It's such a marvelous day. We will never forget France, without which we would not be the United States," said Catherine Camillucci of neighboring Gloucester.
Dozens of French and American figures also traveled to see the Hermione replica.
The Chesapeake Bay port town of Yorktown is where American forces led by George Washington and French soldiers accompanied by Lafayette scored a decisive victory over the British in 1781, prompting their capitulation.
Lafayette, who was born in 1757 to a noble family in south-central France, joined the American Revolution at age 19, inspired by the cause.
The Hermione will be feted as it makes 11 stops on the US East Coast over the next month, including in Philadelphia and Boston. It will also visit Canada.
The high point of the celebrations will take place in New York, where the Hermione will be escorted by hundreds of sail and motor boats past the Statue of Liberty during a July 4 parade to mark US Independence Day.