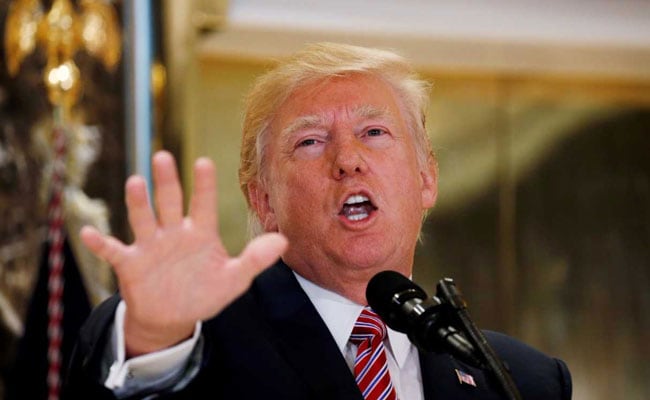 Washington:
Donald Trump on Thursday fired back at a growing number of fellow Republicans who denounced his response to the Charlottesville, Virginia violence, further fueling the latest controversy to engulf his seven-month-old presidency.
In a series of posts on Twitter, Trump lashed out at Republican U.S. Senators Lindsey Graham and Jeff Flake as well as the media, and said he not had drawn any moral comparisons between white supremacists and those who opposed them.
The weekend violence at the Virginia college town has inflamed racial tensions nationwide and renewed concerns over hate groups after Trump blamed both anti-racism activists and white nationalists.
On Tuesday, the president offered a more vehement reprisal of his initial response to Saturday's bloodshed, telling a news conference "there is blame on both sides" for the violence, and that there were "very fine people" on both sides.
The comments drew rebukes from top Republicans and corporate leaders for his failure to unequivocally denounce white supremacists, although many did not name the president outright.
Other Trump supporters, including Vice President Mike Pence, have said they stand by the president and his words.
On Thursday, Trump called Graham's statement a day earlier "a disgusting lie." Graham had said Trump's comments had suggested "moral equivalency" between the two sides and urged him to use his words to heal Americans.
Flake, another vocal Trump critic, also called for direct condemnation of white supremacy groups.
"Publicity seeking Lindsey Graham falsely stated that I said there is moral equivalency between the KKK, neo-Nazis & white supremacists and people like Ms. Heyer. Such a disgusting lie. He just can't forget his election trouncing. The people of South Carolina will remember!" Trump wrote.
The president was referring to 32-year-old Heather Heyer, who was killed when a suspected white nationalist crashed his car into anti-racist demonstrators.
In a separate tweet, he called Flake "WEAK on borders, crime and a non-factor in Senate. He's toxic!" and appeared to endorse Kelli Ward, Flake's Republican challenger in his 2018 re-election race.
Representatives for Graham, Flake and Ward did not immediately reply to requests for comment.
The fallout from Trump's response also led to the disbanding of his CEO advisory panels on Wednesday as a growing number of chief executives from some of the nation's largest companies resigned in protest against the president's response.
The folding of the councils has raised speculation that senior administration figures might step down to avoid being tarnished by their association with Trump.
© Thomson Reuters 2017
(Except for the headline, this story has not been edited by NDTV staff and is published from a syndicated feed.)