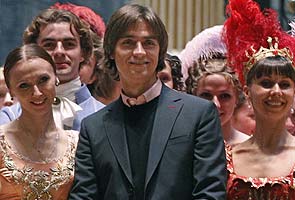 Moscow:
Moscow police on Tuesday detained a suspect who allegedly splashed acid in the face of the artistic director of the Bolshoi ballet in an attack that shocked the world artistic community and left the troupe in crisis.
The 42-year-old Sergei Filin was struck with sulphuric acid by a masked assailant as he was entering his apartment building through a dark parking lot in mid-January.
He spent about two weeks in a Moscow hospital getting treatment for burns to his face and having a series of surgeries on his eyes.
He has since been moved to Germany for further treatment that may take months. His sight was last reported to have been partially recovered in one eye.
"In the course of the investigation... today, Moscow police officers delivered for questioning one of the suspects," Moscow police said in a brief statement.
Bolshoi spokeswoman Yekaterina Novikova told the RIA Novosti news agency that "investigators have confirmed to me that they have detained the person who committed the attack".
The incident left one of the world's most renowned dance collectives in crisis amid reports of years of furious infighting among its dancers.
Filin himself said after the attack that he received threatening phone calls and had the tyre of his car slashed in the weeks preceeding the attack.
"I should have taken these threats more seriously," he said in an interview with one Moscow newspaper.
Several Bolshoi members have already been questioned as witnesses as part of the case.
An unnamed law enforcement source told the Interfax news agency that the person detained by police was not a member of the Bolshoi.
"The detained is the presumed executor of the attack. He is not a member of the Bolshoi Theatre," the official was quoted as saying.
The source added that Filin gave evidence to investigators before departing for Germany.
The former dancer has said several times that he knew who may have ordered the attack and blamed the incident on personal rivalries at the venerable theatre.
Police sources did not specify whether they were close to identifying the person who may have have hired the individual who eventually splashed Filin in the face.
The sources added that Bolshoi members were still being questioned as part of the investigation.
Bolshoi spokeswoman Novikova said the detention was "good news for us".
"There is hope that they are on someone's trail," she told Interfax.
"If they found the person who did this, there is also hope that they will find the person who ordered it," she said.
Novikova added that she hoped that Filin would recover in time to return to work by the time the troupe made its high-profile appearance in London this summer.
Filin has been replaced as the ballet's artistic director on an interim basis by veteran ballerina Galina Stepanenko.