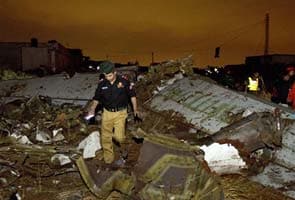 Islamabad:
Pakistani authorities have recovered the black box flight data recorder of a passenger jet that crashed in Islamabad on Friday, killing everyone on board.
The Bhoja Air plane was carrying 127 people on a flight from Karachi to Islamabad.
It crashed into a muddy wheat field on Friday while trying to land in a violent thunderstorm at Islamabad's main airport.
(First pictures of the crash)
The government said there appeared to be no survivors in the crash of the Boeing 737-200 near Benazir Bhutto International Airport - the second major air disaster in the Pakistani capital in less than two years.
(Top sites on crash)
|
(Buzz on Twitter)
The Chairman of Islamabad's Capital Development Authority, Farkhand Iqbal, said the black box would be handed to Pakistan's Civil Aviation Authority.
"They will investigate what really happened to the plane during the last moments before it crashed," Iqbal said.
Bhoja Air, a domestic carrier that has just four planes, only resumed operations last month after suspending them in 2001 due to financial difficulties.
Bhoja administrative director Javed Ishaq told reporters and relatives of those on board that the jet was in good condition and was brought down by heavy winds.
The plane had been given clearance to land, said an air traffic controller who did not give his name because he was not authorised to speak to the media.
A violent thunderstorm was lashing Islamabad at the time of the crash, about 6:40 p.m. (1340 GMT) local time.
Islamabad police chief Bani Yameen said nobody on the ground was reported killed, but all on board had perished.
In a statement, the Boeing Company extended its condolences to the families of the victims and offered technical assistance to Pakistan's Civil Aviation Authority in investigating the crash.
The last major plane crash in the country - and Pakistan's worst - occurred in July 2010 when an Airbus A321 aircraft operated by domestic carrier Airblue crashed into the hills overlooking Islamabad, killing all 152 people aboard.
A government investigation blamed the pilot for veering off course amid stormy weather.
Bhoja Air started domestic operations in Pakistan in 1993 and eventually expanded to international flights to the United Arab Emirates in 1998.