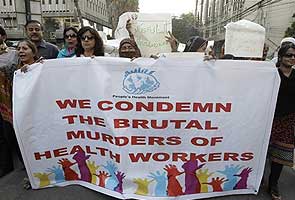 Karachi:
A two-year-old child was diagnosed with polio in this port city, the first such case in Pakistan in 2013.
The child, living Bin Qasim Town, was diagnosed with polio during a visit to a hospital, sources told PTI.
"Unfortunately what we have learned is that when anti-polio vaccine teams went to the neighbourhood of this family they refused to allow volunteers to administrate the drops," they said.
Anti-polio vaccine campaigns in Pakistan have been hit by threats and attacks from religious and extremist groups particularly in the tribal and frontier areas.
In Karachi late last year female polio workers had been killed by armed men forcing the World Health Organisation to suspend the vaccination programme.
Sindh Health Minister Sagheer Ahmed said the anti-polio campaign had resumed with greater urgency as the government was keen to have Pakistan declared a polio free country.
"Anti polio vaccine teams have been given special security so that they can carry on their work without fear," he said.