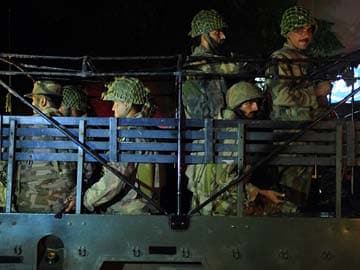 Islamabad:
Pakistan's security agencies presented options to Prime Minister Nawaz Sharif for responding to Taliban terror attacks across the country, media reported on Wednesday.
Sharif's meeting with his national security team on Tuesday came after the assessment of possibly of the worst wave of terrorist attacks in the country this year, the Dawn reported.
Taliban militants attacked the Karachi airport Sunday night, in which at least 30 people were killed. They also attacked Airport Security Force (ASF) Academy's camp Tuesday. However, there was no casualties reported in Tuesday's attack.
Besides these two attacks, militants who have sanctuaries in Afghanistan carried out deadly strikes on border posts in Bajaur. Sectarian militants affiliated with Taliban have, meanwhile, targeted pilgrims in Taftan.
Those who attended the meeting included Interior Minister Chaudhry Nisar Ali Khan, Chief of Army Staff General Raheel Sharif, Chief of General Staff Lt. Gen. Ishfaq Nadeem Ahmad and head of counter-intelligence at Inter-Services Intelligence (ISI) Maj. Gen. Nasir Dilawar Shah.
The report quoting a source claimed that the military had ramped up pressure for a sterner response to the attacks by Taliban.