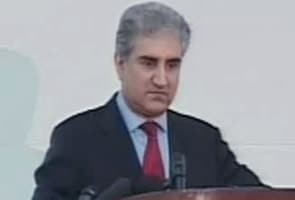 Islamabad:
The Pakistan government on Wednesday stepped in to counter mounting criticism of a proposed transit trade agreement with Afghanistan, with Foreign Minister Shah Mahmood Qureshi saying the pact will not permit the export of Indian goods through Pakistani territory.
"This is a bilateral agreement between Afghanistan and Pakistan, period. Let's not add a third party into it," Qureshi said. One of Pakistan's "major concerns" was the Afghan government's demand to allow Indian exports to Afghanistan via the Wagah land route, he said.
"That concern was adequately addressed by saying, 'No, that will not happen.' This was a major concession which was extracted through our negotiations from the Afghans," Qureshi said in response to a question during a joint news conference with NATO Secretary-General Anders Fogh Rasmussen. "The major concern vis-a-vis Wagah has been put aside, the rest were minor details which have been worked out to mutual benefit," he said. Qureshi added that the Afghan side "conceded to this point" during seventh round of negotiations, following which the two sides signed a "record note" on the proposed pact.
The government has been criticised by Pakistani trade lobbies and business organisations over negotiations to finalise a new pact to replace transit trade agreement of 1965.
The business organisations have alleged that the new agreement, which is being brokered by the US, will eventually permit Indian goods to be transported to Afghanistan via Pakistan.
The Khyber-Pakhtunkwa Chamber of Commerce and Industry (KPCCI) has expressed serious concern over the proposed agreement and asked the government to take all take holders into confidence before giving final approval to the document.
KPCCI president Riaz Arshad said the agreement was being finalised in haste and recommendations from stakeholders were ignored. The new agreement will affect Pakistan's economy as thousands of people associated with transport industry, railways and customs clearing sector will be left jobless, he claimed.The annual loss of Pakistan Railways will be around Rs 3 billion if the government allows Afghan trucks to take goods to the Wagah border, he said. Arshad said the main issues of smuggling of goods and access of Indian goods to have not been adequately addressed by the government. Allowing Afghan transporters to take back goods from India and Pakistan will cripple Pakistan's transportation industry, he claimed.
Protests have organised in several Pakistani cities against the agreement.
The government has defended its negotiations with Afghanistan, with officials saying the proposed pact will have to be ratified by the cabinet before it is finally signed.