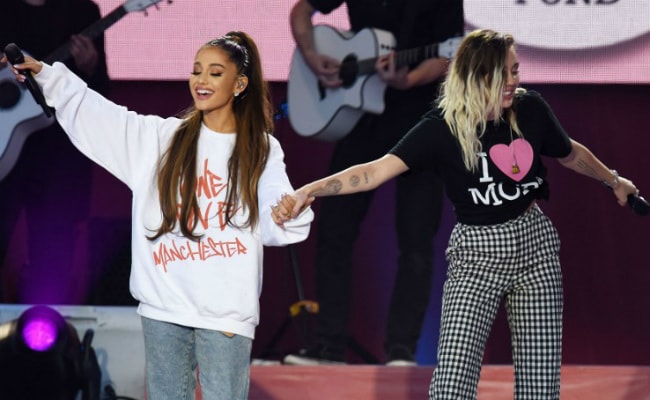 London:
Ariana Grande's One Love Manchester concert has proved no storm, no attack, no nothing will ever stop people from coming together as the pop diva's gig was
a successful show with an almost 50,000-strong crowd in attendance.
The 23-year-old pop star, who had to leave Manchester
after the horrific attack at her May 22 concert
here, made sure that her return filled the entire city with joy and happiness once again.
The evening, which came the day after
attackers targeted the heart of London
, saw some of the biggest names in the music world performing alongside the "Side to Side" hitmaker at Old Trafford stadium to help raise funds for the victims of the attack that claimed the lives of 22 people, including children.
The cricket ground was flooded with face paint, glitter, placards and Grande's bunny ears and witnessed a sea of raised hands as Mumford & Sons frontman Marcus Mumford opened the gig with the song "Timshel", saying "Let's not be afraid, Manchester."
Robbie Williams altered the chorus lyrics of his hit track "Strong" with the words, "Manchester we're strong, we're strong, we're strong. We're still singing our song, our song, our song," as the crowd hummed along.
A young girl, Lily Harrison, who was injured in last month's Manchester Arena attack, also attended the show to see her favourite pop star performing at the event, reported The Guardian.
After Williams, former One Direction star Niall Horan took to the stage leaving some fans in tears as he dedicated "This Town" to victims of the suicide bombing. "Seeing you guys coming together was a sight to behold, we love you, we are with you, the whole world is watching," he told the crowd.
Singer-actress Miley Cyrus' performance was all about her friendship with Grande, who noted the "Bang Bang" hitmaker's strength as a role model.
Wearing a sweat shirt graffitied with the legend One Love Manchester, Grande showed up several times throughout the three-hour show alongside Coldplay, Black Eyed Peas and Little Mix to celebrate the fighting spirit of Manchester.
She also talked about meeting the mother of a 15-year-old victim, Olivia Campbell, who died in the terrorist attack. "As soon as I met her I started crying and I gave her a big hug and she said I should stop crying because Olivia would have wanted me to stop crying," she said.
Towards the end, Grande got emotional as she sang a heartbreaking version of "Somewhere Over the Rainbow" to close out her benefit gig.
Apart from that, the singer also belted out her hits "Break Free," "Side to Side," "Be Alright" and "The Way" with her boyfriend Mac Miller.