Highlights
Among the injured is a British Transport Police officer who was stabbed
Britain on high alert ahead of the June 8 general election
British PM Theresa May said poll campaign will resume on Monday
London:
Seven people were killed in a
terror attack on Saturday by three assailants on London Bridge
and in the bustling Borough Market nightlife district, the chief of London's police force said on Sunday.
The trio were shot dead by the police at the scene.
"It has now been confirmed sadly that seven members of the public have died," Cressida Dick told reporters, raising the toll from six victims earlier.
Forty-eight people have been taken to hospital after a terror attack in central London in which six people died, the London Ambulance Service said Sunday.The injured included a British Transport Police officer who was one of the first responders on the scene and was stabbed in the face and leg.
As they rampaged through the
bars around London Bridge
on Saturday night, the trio wore what looked like suicide vests which turned out to be "hoaxes", said Mark Rowley, head of counter-terrorism policing.
British Prime Minister Theresa May said the election campaign, which has been suspended after the attacks, will resume on Monday and that the general election will be held on Thursday.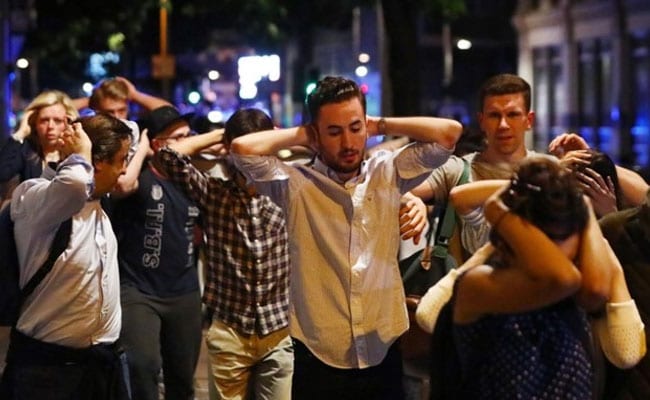 The attack came just five days ahead of a general election and only minutes after the end of the Champions League final between Real Madrid and Juventus, in an area teeming with bars where many fans were watching the football on television.
Britain is on high alert only 12 days after a suicide bomber killed 22 people at a concert in Manchester, northwest England and ahead of Thursday's general election, in which security is a major theme.
It is the latest in a string of attacks to hit Europe, including in Paris, Berlin and Saint Petersburg.
British and world leaders on Sunday reacting with both outrage and solidarity.