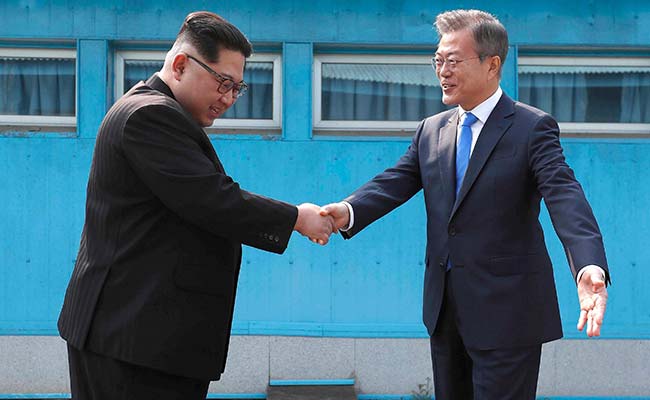 Highlights
The reported pledge from Kim Jong Un follows weeks of whirlwind diplomacy
The pledge can be seen as a sweetener ahead of North Korean-US summit
Donald Trump expresses optimism about securing a nuclear deal with North
Seoul:
North Korea promised to close its atomic test site next month and invite US weapons experts to the country, Seoul said Sunday, as US President Donald Trump expressed optimism about securing a nuclear deal with the secretive regime.
The reported pledge from Kim Jong Un follows weeks of whirlwind diplomacy that saw the leaders of North and South Korea agree to pursue the
complete denuclearisation
of the Korean peninsula during a
historic summit
between Kim and the South's President Moon Jae-in on Friday.
"Kim said, during the summit with President Moon, that he would carry out the closing of the nuclear test site in May, and would soon invite experts of South Korea and the US as well as journalists to disclose the process to the international community with transparency," Seoul's presidential spokesman Yoon Young-chan said.
"Kim said 'the
US feels
repulsive about us, but once we talk, they will realise that I am not a person who will fire a nuclear weapon to the South or the US or target the US," according to Yoon.
"If we meet often (with the US), build trust, end the war and eventually are promised no invasion, why would we live with the nuclear weapons?'"
The remarks are likely to be seen as a sweetener ahead of Trump's own planned summit with Kim, which the US leader said would take place "in the next three or four weeks".
Trump vowed to do "the world a big favour" by achieving a nuclear deal with the regime at a campaign-style rally in Michigan to cheers and chants of "Nobel! Nobel!".
Trump has been eager to play up his role in achieving a breakthrough with Pyongyang through what the White House has called a "Maximum Pressure Campaign" consisting of tough rhetoric, strengthened global sanctions and diplomatic efforts to further isolate the authoritarian regime.
"If we would have said where we are today from three or four months -- months ago, do you remember what they were saying? 'He's going to get us into nuclear war, they said,'" Trump told supporters in Washington Township, north of Detroit.
He added: "No, strength is going to keep us out of nuclear war, not going to get us in!"
But he also sounded a note of caution, saying he was prepared to walk away if US demands for North Korea to relinquish its atomic arsenal were not met.
His remarks came as extracts from an interview with his new Secretary of State Mike Pompeo were released.
Washington's chief diplomat told ABC News he had a "good conversation" with Kim during his secret visit to Pyongyang over the Easter weekend, adding that the North Korean leader was "prepared to... lay out a map that would help us achieve" denuclearisation.
'Things are going well'
Trump held phone calls earlier Saturday with both Moon and Japan's Prime Minister Shinzo Abe, declaring "things are going very well", as CBS News reported that Mongolia and Singapore are the final two sites under consideration for his meeting with Kim.
It was unclear whether North Korea would host US experts at its Punggye-ri underground testing site before or after the summit.
Kim slammed speculation during his meeting with Moon that the test site was already unusable after Pyongyang conducted its largest ever nuclear test there last September.
"Some people are saying that we are terminating a test site that is already useless, but, as they will see once they visit, there are two more tunnels (in the test site) that are even bigger... and they are in good condition," he said, according to the South's presidential spokesman.
Last year, Pyongyang carried out its sixth nuclear test and launched missiles capable of reaching the US mainland.
Its actions sent tensions soaring as Kim and Trump traded personal insults and threats of war.
Washington is pressing for the North to give up its weapons in a complete, verifiable and irreversible way.
Pyongyang is demanding as yet unspecified security guarantees to discuss its arsenal.
New era?
On Saturday North Korea described its summit with the South as a "historic meeting" that paved the way for the start of a new era.
The official KCNA news agency carried the text of the leaders' Panmunjom Declaration in full and said the encounter opened the way "for national reconciliation and unity,
peace and prosperity
."
In the document, Kim and Moon "confirmed the common goal of realizing,
through complete denuclearisation
, a nuclear-free Korean Peninsula."
But the phrase is a diplomatic euphemism open to interpretation on both sides.
Pyongyang has long wanted to see an end to the US military presence and nuclear umbrella over the South, but it invaded its neighbour in 1950 and is the only one of the two Koreas to possess nuclear weapons.
When Kim stepped over the military demarcation line that divides the peninsula he became the first North Korean leader to set foot in the South since the Korean War hostilities ceased in 1953 with an armistice rather than a peace treaty.
He then persuaded Moon to step into the North -- a fact reported by KCNA on Saturday -- and the two leaders shared a day of smiles, intimate moments, and a half-hour-long one-on-one conversation.
In the declaration document, the two Korean leaders pledged to seek a peace treaty this year to formally declare the Korean War over, 65 years after hostilities ceased with an armistice.
But agreeing a treaty to formally close the conflict will be complicated -- both Seoul and Pyongyang claim sovereignty over the whole Korean peninsula.
(Except for the headline, this story has not been edited by NDTV staff and is published from a syndicated feed.)