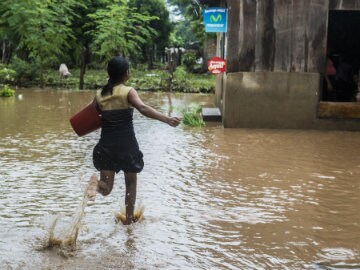 Managua:
Driving rain that has swamped most of Nicaragua for days has killed 24 people, authorities said on Sunday, sparking fears of a potential health crisis in some areas.
The flooding has left more than 33,000 people homeless and many are cramming into shelters around the Central American nation, government spokeswoman and first lady Rosario Murillo said.
The government has rushed 5,000 emergency food kits to an area on the Caribbean coast near the Honduran border where mostly Miskito indigenous people have been cut off by the overflowing Prinzapolka and Coco rivers.
Local officials are worried the over-soaking could boost mosquito populations, therefore increasing the risk of mosquito-borne illnesses.
And "with the degree of saturation we have, the earth is so wet that any light to moderate rain" could cause more mudslides in this mountainous and largely poor country, Murillo warned.
Get Breaking news, live coverage, and Latest News from India and around the world on NDTV.com. Catch all the Live TV action on NDTV 24x7 and NDTV India. Like us on Facebook or follow us on Twitter and Instagram for latest news and live news updates.