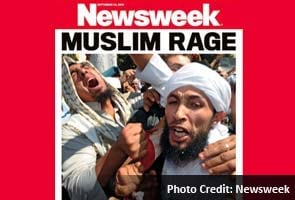 Paris:
Newsweek's front page about the deadly protests currently sweeping the Muslim world has sparked a storm of controversy and derision on Twitter as netizens mock the magazine's headline "Muslim Rage."
"Lost nephew at the airport but can't yell for him because his name is Jihad. #MuslimRage," one Twitter user mocked online.
"Man next to me on subway reading Koran on his Samsung Galaxy tablet just offered his seat to an older lady. #MUSLIMRAGE truly affects us all," another netizen from New York posted on his account.
The front page shows a photo of angry Muslim protesters shouting and putting their hands in the air, under the headline "Muslim Rage" and a sub-headline "How I survived it, how we can end it."
The cover story is written by Ayaan Hirsi Ali, a well-known Somali-born rights activist and former Dutch lawmaker whose criticism of Islam has earned her death threats.
In it, she describes her own experience of renouncing Islam as well as making a short film with Theo van Gogh about Muslim women that saw the Dutch filmmaker shot and stabbed to death.
The article comes as Muslims in at least 20 countries have staged angry demonstrations outside US embassies and other American symbols in protest against an anti-Islam film called "Innocence of Muslims."
The movie - believed to have been produced by a small group of extremist Christian Americans - mocks the Prophet Mohammed and portrays Muslims as immoral and gratuitously violent.
A trailer for the film appeared on YouTube last week, sparking the violent backlash that has seen more than 30 people killed so far.
Newsweek's cover -- and subsequent attempts on the magazine's Twitter page to encourage netizens to comment using the hashtag #MuslimRage -- have meanwhile unleashed a different kind of backlash.
"Well done Newsweek, bring a well-known anti-Islam activist and get them to write your cover story titled #MuslimRage on how to stop it," one netizen responded.
Entertainment and media blog Gawker on Tuesday published 13 widely retweeted photos poking fun at "Muslim Rage", such as a picture of teenagers blowing bubbles in a square under the caption "violent, angry Egyptians."
Another Tweeter posted a mock-up version of the Newsweek cover called "Anti-Muslim Rage", with photos of crying children under the captions "Iraq War" and "Drones."