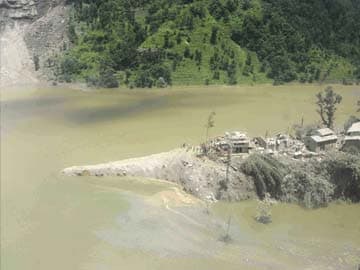 Kathmandu:
Rescuers on Monday discovered 25 more bodies buried under tonnes of mud and trees following a massive landslide in northeast Nepal feared to have killed at least 160 people.
Thirty-four corpses, including seven children, have been pulled from the landslide that crushed hamlets along a river in Sindhupalchok district before dawn on Saturday following monsoon rains, an official said.
"The death toll has now reached 34. That includes 18 women, seven men, seven children and two bodies we have not been able to identify," regional police chief Subodh Ghimire told AFP.
"We expect to find many more bodies," said Ghimire from badly hit Jure village.
The head of Nepal's disaster management division, Yadav Prasad Koirala, told AFP, "we think the final death toll could be around 165 or higher".
More than 100 police and soldiers, using bulldozers and excavators, were digging through mounds of mud and rocks to reach more bodies.
Lack of official records left authorities struggling to determine the exact number of people missing, Koirala said.
Traumatised villagers kept an anxious vigil at the landslide site, some 120 kilometres (74 miles) northeast of Kathmandu, in the hope missing loved ones would be found by rescuers.
Kalu Tamang, a 41-year-old cook who lost eight members of his family, including his wife, mother and four children, said he was desperate "to see their faces one last time".
"I want to carry out the last rites for my family members, I am waiting for their bodies," Tamang told AFP.
Many of the men from the disaster-hit villages worked and lived near the Nepal-China border as truck drivers, traders or hotel staff, and were away when the landslide struck.
Ram Bahadur Lama returned from the border to discover his wife was among those killed.
"I don't know how I will spend the rest of my life, I wish I had been buried with her," the 50-year-old told AFP.
- Evacuations in India -
As the grim search continued, India stepped up the evacuation of thousands of residents from its eastern state of Bihar, amid fears the landslide would unleash flash floods downstream across the border, inundating villages.
Nepalese workers have been attempting to blast holes in landslide debris to release water from the artificial lake created by the landslide which dammed the Sunkoshi river. The river runs across the border into India's Bihar as the Kosi river.
"We've evacuated more than 65,000 people but more than this number will have to be evacuated soon," Bihar disaster management official Anirudh Kumar told AFP.
The Kosi river burst its banks in 2008 and shifted away from its normal course, engulfing swathes of Bihar and killing hundreds of people.
A three-kilometre (1.8-mile) stretch of the Arniko highway that connects Nepal with China was submerged, forcing road closures and stranding many foreign travellers on their way to Kathmandu from Tibet.
A leading helicopter company, Fishtail Air, told AFP it was fielding a stream of calls from anxious tourists.
"In the last two days, we have choppered in 90 people, including foreign tourists and local businessmen," said Ramesh Shiwakoti, Fishtail's sales head.
Scores of people die every year from flooding and landslides during Nepal's monsoon season.
At least 75 people were killed in separate incidents last year, when floods triggered by heavy rains struck homes in Nepal's remote western region and southern plains.
More than 70 people died in May 2012 when an avalanche sparked a flood on the Seti river in the worst natural disaster to strike the Himalayan nation in recent years.
Nepal's landslide came as rescuers said 130 bodies have now been found in the western Indian state of Maharashtra where a major landslide destroyed a village last Wednesday. At least 150 people are believed to have been killed in that landslide.