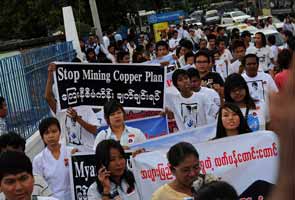 Yangon:
Riot police fired water cannon to disperse people protesting against a controversial Chinese-backed copper mine in northern Myanmar, an activist told AFP Thursday.
The protest is the latest incident of long-oppressed Myanmar citizens testing the limits of their new freedoms following the end last year of decades of iron-fisted rule by the junta that routinely cracked down on dissent.
"While we were sleeping riot police came to the site and fired water," said Yaywata, a monk who was among hundreds of people demonstrating against the mine, which has seen months of protests over complaints of alleged land grabbing.
Several monks were arrested and around 30 others "suffered burns to their body" after police also fired an unknown gas at the group, Yaywata, who goes by one name, added without speculating what the gas was.
"We are now gathering at a monastery nearby. We haven't decided what to do yet," he added.
Villagers, monks and students had been warned to vacate protest camps near the mine -- a joint venture between military-owned Myanmar Economic Holdings and Chinese group Wanbao -- by Tuesday, but had vowed to defy authorities.
Protesters are demanding the company stops work until it releases environmental and social impact studies.
During a September protest activists said some 8,000 acres (3,200 hectares) of land had been confiscated from local farmers without consultation, and in some cases without compensation.