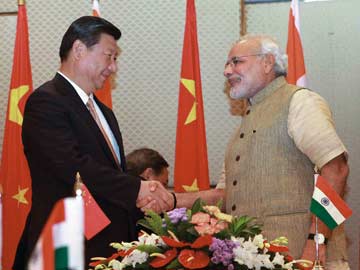 Ahmedabad:
Prime Minister Narendra Modi said that the three MoUs signed between India and China on Wednesday will further enrich bilateral ties. Tweeting after receiving Chinese President Xi Jinping Ahmedabad, Prime Minister Narendra Modi said that the visiting leader got a glimpse of Gujarati culture.
"Three MoUs that will further enrich India-China ties were signed in the presence of President Xi Jinping & myself," PM Modi said in a tweet.
Among the three MoUs signed today was an agreement for making Guangzhou and Ahmedabad sister cities and another between Guangdong province and Gujarat government for the development of cultural and social ties between the two provinces. The third MoU was for the setting up of industrial parks in the state.
"President Jinping & I went to Sabarmati Ashram. We visited Hriday Kunj & the President tried his hand at the Charkha," Narendra Modi said in another tweet.
Xi arrived here earlier today for a three-day visit. Prime Minister Narendra Modi and the Chinese President will hold detailed talks on Thursday in Delhi.