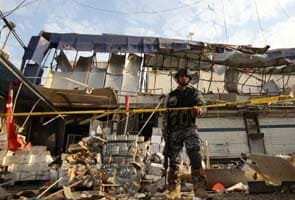 Baghdad:
Militants killed nine police in an attack with mortars and automatic weapons in Iraq on Wednesday, while 14 people including six soldiers died in other violence, officers and doctors said.
The attacks come a day after an Al-Qaeda front group claimed brazen assaults on two prisons in Iraq that killed more than 40 people, among them 20 members of the security forces, and saw hundreds of inmates, including senior militants, escape.
Security forces are hunting the prisoners who broke out during the assaults on Sunday night and early Monday, to prevent them rejoining the ranks of the militants.
"Security forces are continuing their (deployment) in the areas surrounding the two prisons," interior ministry spokesman Saad Maan said, adding that a "large number" of escapees had been recaptured, without saying how many.
INTERPOL said in an online statement on Wednesday that the escapes "constituted a major threat to global security", and that it had issued a regional security alert at Iraq's request.
Wednesday's police station attack, which occurred about 60 kilometres (35 miles) south of the northern city of Mosul, also wounded two policemen.
It was followed by a roadside bomb explosion as emergency personnel rushed to the scene, wounding another two people.
Gunmen also killed a soldier in Mosul itself, while others attacked a bus carrying soldiers in Tikrit, killing four soldiers and wounding four others, along with the civilian driver.
In the northern city of Kirkuk, a suicide bomber driving an explosives-laden vehicle attacked an army patrol, killing a soldier and wounding seven other people.
And on a highway in Anbar province, west of Baghdad, militants with heavy machineguns attacked an army checkpoint and a joint army-police convoy in an apparent attempt to free a captured senior Al-Qaeda member it was transporting.
The attack left four militants dead, while four soldiers and a militant were wounded.
Gunmen also shot dead four people in other attacks.
Iraq has faced years of attacks by militants, but analysts say widespread discontent among members of its Sunni Arab minority, which the government has failed to address, has fuelled the surge in unrest this year.
Security forces are frequently targeted by militants opposed to the government in Baghdad.
With the latest unrest, more than 660 people have been killed so far in July, making it the deadliest month in a year marked by spiralling violence.
Iraq's Sunni Arabs accuse the Shiite-led government of marginalising and targeting their community, including through unwarranted arrests and terrorism charges.
Protests broke out in Sunni-majority areas at the end of 2012 and are still ongoing.
In addition to the major problems with security, the government in Baghdad is also failing to provide adequate basic services such as electricity and clean water, while corruption is widespread.
Political squabbling has further paralysed the government, which has passed almost no major legislation in years.