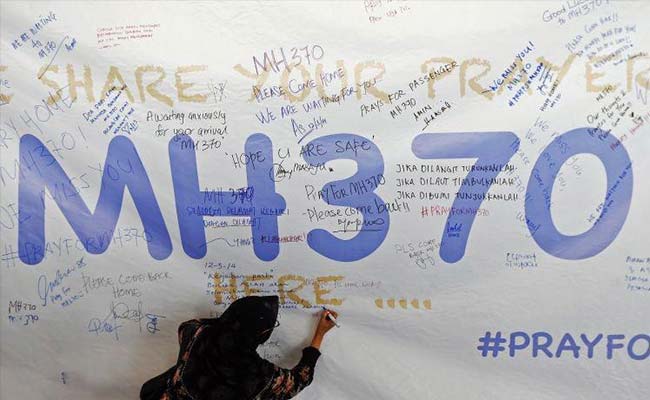 Kuala Lumpur, Malaysia:
Malaysia Airlines flight MH370 next-of-kin have begun filing a slew of lawsuits over the plane's disappearance as a two-year deadline approaches on March 8, with some hopeful that court scrutiny will help reveal answers about what befell the ill-fated plane.
Several US, Malaysian and Australian law firms told AFP they had begin filing suit on behalf of dozens of relatives of the 239 people on board the flight, seeking undisclosed damages.
Under international agreements, families have two years to sue over air accidents.
Any damages are to be paid by the flag carrier's insurer, Germany-based Allianz, and thus would not impact the struggling airline's finances.
But some also plan to sue Malaysia's civil aviation authorities and military for losing track of MH370, attorneys said, and at least one will target aircraft manufacturer Boeing.
If successful, total payouts could reach into the "hundreds of millions" of dollars, said Joseph Wheeler, an Australian attorney who is seeking an out-of-court settlement for four Malaysian next-of-kin before the deadline.
"It's a full Boeing 777, so the claims will be substantial," said Wheeler.
The overnight flight from Kuala Lumpur to Beijing vanished soon after take-off on March 8, 2014.
Investigators believe it diverted and crashed in the southern Indian Ocean, but neither a crash site nor cause have been found.
'Intransigent' Airline'
Under international agreements, families automatically get compensation totalling around $160,000 per passenger.
But they can sue for more, and Malaysia Airlines must prove it was not at fault, a tough task given the lack of clues.
Among major cases, 43 people, nearly all Chinese, sued in New York in early February, according to a copy of their case. MH370 carried 152 Chinese nationals.
A Miami-based firm is moving ahead with various lawsuits involving nearly 200 next of kin from several countries, said their attorney Roy Altman.
These include suing on behalf of all the clients against the airline and Malaysian government in Kuala Lumpur, and against Boeing in Chicago over possible aircraft malfunction.
The potential success of the various suits remains unclear given the unusual circumstances and jurisdictions, attorneys said.
Plaintiffs' lawyers offer mixed reports of the process, with some reporting smooth negotiations for out-of-court settlements, while some others complained of low offers from the Malaysian side.
"We tried to negotiate, but they were intransigent and left us no option but to file," Altman said.
Others complained that lawyers for the national carrier were threatening to have some cases struck out on grounds that a state-orchestrated rescue plan for the airline last year dissolved its previous holding company, Malaysia Air Systems (MAS).
A successor holding company claims no liability for MH370.
Voice370, an international next-of-kin network, this week called the move a "despicable act" to frustrate claims.
But the Malaysian administrator overseeing now-defunct MAS denied this Thursday, saying he had so far acceded to 96 requests for legal proceedings.
'Good Faith' Pledge'
"No requests have been rejected," administrator Mohammad Faiz Azmi said in a statement.
He said 42 next-of-kin had collected "full compensation" so far, giving no details.
He pledged a "good faith" effort to determine fair and equitable compensation, and said insurance would cover all reasonable claims.
Families accuse the airline and authorities of allowing MH370's disappearance through a slow, bungled response, withholding information, and treating families poorly.
The charges are strongly denied, but a number of miscues blotted Malaysia's chaotic reaction, including its air force's failure to act despite tracking the plane on radar for nearly an hour after it diverted.
Most relatives declined comment due to the pending legal action, but several expressed hope that court action could reveal more information.
"We can't let the world forget 239 lives. We can't let such a tragedy happen again," said Jack Song, a Chinese national whose sister was onboard.