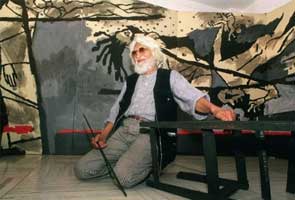 London:
The funeral of legendary painter MF Husain will be held in London today. Ninety-six-year-old Husain died from complications caused by lung congestion in London on Thursday.
Husain, who rose from a Bollywood billboard artist to become India's most celebrated painter worldwide, was on a self-imposed exile.
India's very own 'Picasso', who earned both fame and wrath for his paintings, breathed his last London's Royal Brompton Hospital where he was admitted after being in "indifferent health" for the last one-and-a-half month, reported PTI quoting family sources.
Prime Minister Manmohan Singh said Mr Husain's death is "a national loss." President Pratibha Patil said his death "left a void in the world of art."
The Indian government had offered help to his family if they want to bury him in India.
In recent years, artists and activists, like Mr Husain, had lamented his inability to live in India because of death threats and legal cases over paintings that Hindu groups described as obscene. Mr Husain left India in 2006. In 2010, he was offered and accepted citizenship of Qatar and divided his time between homes in Qatar and London. The government has been criticised by activists and artists for failing to make a rigorous attempt to bring Mr Husain back to India.
Condoling his death, the BJP said he may have been controversial, but Husain was an Indian; his last rites should be performed in India.