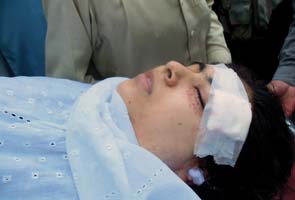 Islamabad:
Several people from the British Pakistani community have begun raising money to "promote education" in the name of Malala Yousufzai, the teenaged rights activist shot by the Taliban and currently undergoing treatment in Britain.
The 15-year-old Malala is being treated at Birmingham's Queen Elizabeth Hospital.
The News International said people have donated money in the girl's name, but that there was little transparency in how these funds are being raised, where the money will be spent and who will oversee the fund-raising as well as the implementation.
Officials from the Pakistan High Commission as well as Queen Elizabeth Hospital told the daily that Malala's family has not authorised any individual or organisation to collect money for setting up any institution by using Malala's name.
"The impression that Malala's family and the High Commission for Pakistan in Britain are supporting any individual or organisation to establish any institution using the name of Malala is incorrect," the High Commission said in a statement.
"Those who are using the name of Malala or the High Commission for Pakistan in Britain for setting up any project or collecting donations should refrain from it."
A hospital spokesman told the daily an account has been set up within the main hospital fund to support Malala and it had not extended support to any organisation or individual.
A Pakistani organisation launched an initiative called "Malala Girls School Project", and raised 1,500 pounds. But the organisers of the event had no idea where the school in Pakistan will be built.
Another organisation called Riwayat in London sold tickets for a fashion show in Malala's name. It said funds will be raised for Malala, and many models and designers had been flown in from Pakistan for the event titled Pakistan Fashion Week 3.