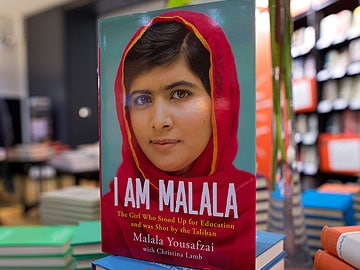 Islamabad:
A ceremony to launch Pakistani teenage rights activist Malala Yousufzai's book was scrapped after the government of the restive Khyber-Pakhtunkhwa province said it could not provide security for the event.
The book "I Am Malala" by the 16-year-old, who survived a Taliban assassination attempt, was to be launched today at the University of Peshawar.
The Bacha Khan Education Foundation (BKEF), Strengthening Participatory Organisation (SPO) and Area Study Centre (ASC) had organised the ceremony.
BKEF director Khadim Hussain said the groups were informed by police late yesterday that they could not provide security for the programme.
"It (cancellation of the launch) is against the spirit of freedom of expression and promotion of education because holding a ceremony in honour of Malala Yousufzai means to scale up awareness about child rights," Hussain was quoted as saying by the Dawn.
The daily quoted its sources as saying that the director was first contacted by provincial Local Government Minister Inayatullah Khan, who belongs to Jamaat-e-Islami, and then by Information Minister Shah Farman of the Pakistan Tehrik-e-Insaf and they asked him to stop the launch.
When the director said ASC was an autonomous centre that was not under the jurisdiction of the provincial government, he was approached by the vice-chancellor and registrar who "called for stopping the ceremony," the report said.
Area Study Centre director Sarfraz Khan said "many people, including ministers, the vice-chancellor, registrar and police," stopped him from holding the event.
Finally, the head of the Campus Peace Corps, which comes under the provincial police chief, "categorically" told the director that they were not in a position to provide security.
But provincial minister Inayatullah Khan said he had never spoken to anyone about the book launch.
The Pakistani Taliban, whose fighters shot Malala in the head in 2012, had earlier warned shopkeepers in the region not to stock her book.
The report of the government stopping the book launch was criticised by many on social media networks.
However, Imran Khan, whose Tehrik-e-Insaf party rules Khyber-Pakhtunkhwa, said in a message on Twitter: "I'm at a loss 2 understand why Malala's book launch stopped in Peshawar. PTI believes in freedom of speech/debate, not censorship of ideas."
Former President Asif Ali Zardari's daughter Aseefa tweeted: "Pathetic of PTI gov to ban #Malala's book. This is censorship! Where is our freedom of speech and expression?"
Adil Ansari, head of the Imran Khan's party's social media wing tweeted, "Launching of book 'I Am Malala' was being organised at Pak Area Study Center, Peshawar University which is violation of rules & regulations."