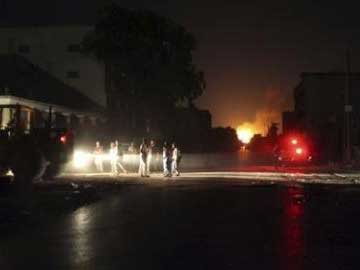 Tripoli:
Militias that control Libya's two main cities denounced on Tuesday hard-won talks brokered by the UN aimed at ending a split that has crippled the violence-plagued country.
Parliament, which was elected June 25 and is dominated by anti-Islamists, is recognised by the international community but contested by a coalition of militias that control Tripoli and by Islamists in the eastern city of Benghazi.
The talks were held in the far southwestern town of Ghadames, following marathon shuttle diplomacy by UN mission chief Bernardino Leon, and attended by representatives from Britain and Malta.
Leon described as "positive" and "constructive" the talks seeking to stabilise the political situation and halt violence that has gripped Libya since the 2011 armed uprising that toppled and killed dictator Moamer Kadhafi.
On Tuesday, however, the Fajr Libya (Libya Dawn) coalition in Tripoli denounced the dialogue in a statement and declared that it was continuing with its "military operations," without elaborating.
In the east, the "Shura of Benghazi Revolutionaries" comprising jihadist groups, among others, issued their own statement rejecting the initiative as "unfair".
For its part, the Dar al-Ifta, the country's highest religious authority, called for the "suspension" of the talks, and warned of the "dangerous decisions" of the new parliament.
The Dar al-Ifta, which has been regularly criticised for interfering in politics, is widely considered to be a supporter of Fajr Libya in the capital and the Islamist militants in Benghazi.
In its statement, it singled out for criticism the parliament's decision to declare as "terrorists" what it called "revolutionaries."
The majority faction of the new parliament has been meeting in the far eastern town of Tobruk since the Islamists and their allies took control of Tripoli last month.