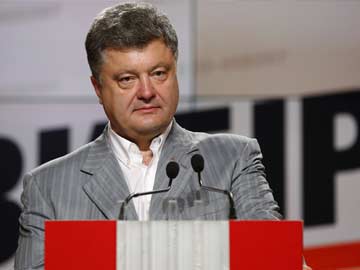 Warsaw:
Ukrainian President-elect Petro Poroshenko said on Wednesday he would try to secure support at meetings with world leaders in France this week for a plan to end violence in eastern Ukraine, and may discuss the question with Russian leader Vladimir Putin.
Unveiling the first details of his plan after discussing it with U.S. President Barack Obama on a visit to Poland, Poroshenko said it would involve de-centralisation of power to the region, local elections, and an amnesty offer.
Ukrainian leaders have mooted similar proposals in the past but they have been quickly discarded, and failed to stem clashes between pro-Russian separatists and government forces, which have been mounting this week.
Poroshenko, Putin, Obama and most European leaders will be at commemorations in Normandy, France this week to mark the 70th anniversary of the D-Day landings during World War Two.
"As things stand now, a meeting between me and Putin is not envisaged, but I do not rule out that it could take place in one format or another," Poroshenko told a news conference in Warsaw, where he earlier had talks with Obama.
"Today I discussed with the leaders of EU states, the United States and Canada the details of the peace plan which I will propose after the inauguration," Poroshenko said, referring to his swearing-in scheduled for Saturday.
"We agreed to continue the discussions during the celebrations in Normandy."
"It will be a de-centralisation of power on the Polish model, which will transfer real prerogatives to the local level. And that is very topical for our colleagues from eastern Ukraine, from Donetsk and Luhansk regions."
The amnesty would be offered to "people who did not commit crimes", he said, without elaborating.
"If these proposals are accepted, we can start dialogue."
Ukraine's government, backed by Poroshenko, is conducting a security operation to try to defeat pro-Moscow insurgents in eastern Ukraine. There has been heavy loss of life, and Russia has accused Kiev of violating international law.
"This is our responsibility as the Ukrainian authorities to defend people, to bring peace," Poroshenko said.
Asked if the security operation would change, he told reporters: "I am not going to reveal our plan, we are discussing it now at the level of EU states, but the final discussion will take place in Normandy."
© Thomson Reuters 2014
Get Breaking news, live coverage, and Latest News from India and around the world on NDTV.com. Catch all the Live TV action on NDTV 24x7 and NDTV India. Like us on Facebook or follow us on Twitter and Instagram for latest news and live news updates.