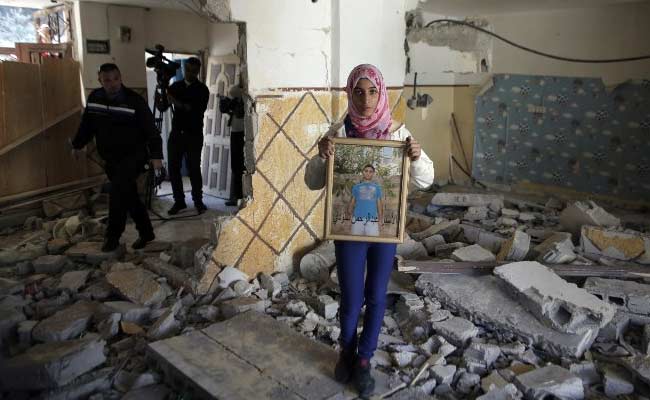 Jerusalem:
Moving ahead with a revival of a controversial policy suspended a decade ago, Israeli security forces early Wednesday demolished the East Jerusalem family home of a Palestinian man who plowed his car into pedestrians last month, killing a baby and a young woman.
Inas al-Shaloudy, the mother of the driver, Abdel Rahman al-Shaloudy, said border police officers arrived "in large numbers" Wednesday at 1 a.m. and evacuated about 50 people from her five-story building and nearby structures. Huddled with the group in a protest tent, she said she heard an explosion at 4 a.m. and returned an hour later to find her apartment filled with broken glass, its inner walls destroyed, and those of her neighbors cracked.
"This is not only collective punishment, it is a call for a violent reaction," said Shaloudy, 43, who teaches English.
Israel sealed or destroyed the homes this summer of four other Palestinians who killed Jews, and did so twice in 2009, after halting the widespread practice in 2005 when a commission found that it rarely worked as a deterrent and instead inflamed hostility.
Prime Minister Benjamin Netanyahu of Israel vowed to renew the policy as part of a wider crackdown following a wave of deadly attacks over the last month, the latest killing four worshippers and a police officer at a Jerusalem synagogue Tuesday.
"You need a means of deterrence against the next suicide attacker," Netanyahu said at a televised news conference Tuesday night. "When he knows that his house, the house in which his family lives, will be demolished, this will have an impact."
Human rights groups have long condemned such demolitions as collective punishment banned by international law. They and others argue that it is also ineffective, and complain that similar measures are not taken against Jewish extremists like those now on trial for kidnapping and killing a 16-year-old Palestinian resident of East Jerusalem in July.
"Such acts may also awaken and invoke a desire to revenge such acts and not to stay passive in the wake of such penalizing steps," Alon Evyatar, a former lieutenant colonel in the Israeli army, warned in a radio interview. "Israel should also prepare for the possibility of someone who will rebuild these demolished homes for those families, and they will end up with larger and fancier homes instead of deterrence."
Nahum Barnea, a columnist for the Israeli newspaper Yediot Aharonot, adopted a sardonic tone, writing Wednesday that "house demolitions photograph well." He said the government was ordering the demolitions because "it feels that it must show the public that it is punishing the other side, otherwise it will be said that it is either left-wing or weak."
The attack by Shaloudy on Oct. 22 at a light-rail station in Jerusalem was the first of five by Palestinians in the past month that have claimed a total of 11 lives and have been attributed largely to a struggle over the holy site in the Old City that Jews call the Temple Mount and Muslims the Noble Sanctuary. Chaya Zissel Braun, who was 3 months old, died immediately after being knocked from her stroller by the car while her parents watched in horror, and Karen Mosquera, 22, an immigrant from Ecuador, died of her wounds days later.
Shaloudy, who relatives said was suffering from psychological problems and had served two stints in Israeli prisons since 2012 for throwing stones, was shot dead as he tried to flee the scene. His mother said she had emptied furniture from the home in the Silwan neighborhood near the Old City after being notified of the impending demolition last Friday at 2:30 p.m. She said she planned to move in with relatives elsewhere in Jerusalem.
"Netanyahu can't stop these operations by demolishing homes, he is pouring fuel on the fire," said Talaat al-Shaloudy, 42, an uncle who works as a driver. "As long as we aren't safe, they won't be safe."
B'Tselem, an Israeli human rights group that opposes demolition and has tracked its use closely for years, said the Shaloudy family was one of six - four in East Jerusalem and two in the West Bank - that had been notified recently of Israel's plans to knock down their homes. The other homes have not yet been demolished.
After receiving a demolition order, families have 48 hours to object to the military, then another 48 hours to appeal to Israel's Supreme Court, but Sarit Michaeli, a spokeswoman for B'Tselem, said the court "has always, every single time, approved the use of this policy."
During the second intifada, or Palestinian uprising, from 2000-2005, Israel knocked down about 675 apartments, leaving more than 4,000 people homeless, according to B'Tselem. The group has counted a total of nearly 2,500 Palestinian homes destroyed as punishment since Israel captured the West Bank and Gaza Strip in the 1967 war.
The Geneva Conventions prohibit an occupying power from destroying property "except where such destruction is rendered absolutely necessary by military operations." Israel does not consider East Jerusalem, which it captured in 1967 and later annexed, to be occupied, but most of the world does. Israeli officials have also argued that the term "military operations" includes "military response."
"Our position is it's illegal and it's also immoral," Michaeli of B'Tselem said in an interview. "It's a deliberate policy for harming the innocent. The people responsible for these attacks are either dead or facing trial."
Noting that similar actions were not taken against the family of Baruch Goldstein, the Israeli physician who killed 29 Muslim worshipers in a 1994 massacre at the Cave of the Patriarchs, or against those suspected in this summer's killing of the East Jerusalem teenager, she added: "It's obviously political."
Netanyahu's spokesman, Mark Regev, said Jewish extremists were not treated similarly because Israeli society does not celebrate such attacks in the way that Palestinians often do.
"There is a culture of support within Palestinian society - these people are put up on a pedestal, they become martyrs, they become heroes, they are praised by the Palestinian leadership, their families are embraced, there are also very practical benefits for the family vis-a-vis financial support," Regev said. "In many ways, an action against the house is evening of the playing field. One is saying that by committing a heinous crime, in this case by murdering a baby, there will be a price to be paid."
"This is a step that is not taken lightly," he added. "But after weighing all the different aspects and after going through the correct legal processes, we believe, and the security services are convinced, that this can provide a deterrence that will save lives. Obviously it won't save the baby, but it could save future lives."
© 2014, The New York Times News Service