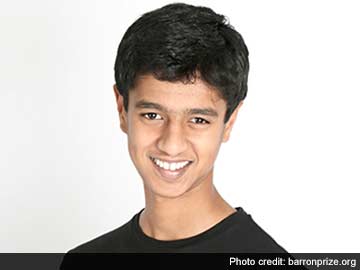 Washington:
Kiran, an Indian-American teenager from California, is among the recipients of this year's prestigious Gloria Barron Prize for Young Heroes.
Kiran, age 16, of California, has received the prize for creation of Waste No Food, a free web-based service that links food donors with charities that feed the hungry.
His group has redistributed food to serve 1,00,000 meals and has kept thousands of pounds of food out of landfills, the Gloria Barron Prize for Young Heroes said in a media release.
Each year, the Barron Prize honors 25 outstanding young leaders aged between 8 to 18 who have made a significant positive difference to people and the planet.
The top 15 winners each receive $5,000 to support their service work or higher education.
"I've learned that it's possible to make a difference in the world if one is committed," Kiran said.
In four years, his group has redistributed food to serve over 1,00,000 meals. He began his work after volunteering at Glide Memorial Church in San Francisco, which serves three meals daily to anyone in need.
Researching the hunger problem, Kiran learned that it's largely one of food distribution and that one third of all food in California is wasted.
He also began to better understand the science of wasted food and its effect on our landfills and methane emissions. He resolved to help others see the food waste problem as both a humanitarian and an environmental one, the organizers said.
Kiran conceived of a simple system that would make use of technology and allow donors to post available food to pre-approved charities who in turn, would claim it and pick it up.
"He has rallied 140 students at his high school to help sign-up food donors and make the system a rousing success, with other schools and community colleges eager to start their own chapters. For the past year, Kiran has been developing a mobile app for cell phones," the Gloria Barron Prize for Young Heroes said.