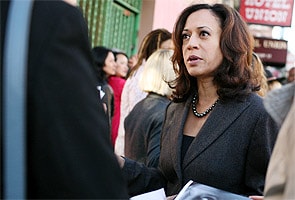 Washington:
Indian-American Kamala Harris, California's next Attorney General, is the "female Obama" in making and likely to be a national figure shortly, a media report said on Saturday.
Daughter of an Indian mother and African-American father, Harris is being called the future of the Democratic Party, a rising political star in the mold of one of her big supporters President Barack Obama, the 'Politico' said in a lead story.
"At first glance, the President and Harris have much in common: Both are mixed-race children of immigrants raised by a single mother; both are eloquent, telegenic big-city lawyers with strong liberal credentials who catapulted from relative obscurity to the national stage.
"And like the first African-American President, Harris has broken a long-standing barrier she's California's first African-American Attorney General and the first woman to hold the office," Politico said.
She is a rare talent who will be a national figure shortly, Chris Lehane, a former Clinton aide, who is now a consultant in California, was quoted as saying.
"People call her the female Obama. It's more apt to say she is the female Obama that progressives thought they were voting for," Lehane said.
Harris replaces Democratic Jerry Brown, who won election for Governor of California.
In December 2003, she was elected as the first woman District Attorney in San Francisco's history, and as the first African-American woman and South Asian-American woman in California to hold the office.
She was overwhelmingly re-elected to a second term in November 2007.
Born and raised in the East Bay, Kamala is the daughter of Dr Shyamala Gopalan, a Tamilian breast cancer specialist who traveled to the US from Chennai to pursue her graduate studies at UC Berkeley.
Harris has spent the majority of her professional career in the trenches as a courtroom prosecutor.
In 1998, she was named managing attorney of the Career Criminal Unit of the San Francisco District Attorney's Office, where she prosecuted three strike cases and serial felony offenders. She then served as the head of the San Francisco City Attorney's Division on Families and Children.
As San Francisco District Attorney, Harris focused intensively on fighting violent crime. In an interview to Politico, Harris said she wants to create a smarter criminal justice policy.
Like Obama, Politico said, Harris has sought to avoid being tied to Democratic orthodoxy.
Her "smart on crime" approach in San Francisco included cracking down on truancy including charging the parents of chronically truant children with a misdemeanour punishable by jail time and a fine.
Civil libertarians and conservatives alike raised questions about the move but Harris was unapologetic, she said.
"Harris' new post gives her an instant national platform: Her predecessors in the post, including California Governor-elect Jerry Brown, used the office to influence national environmental policy, while New York Governor-elect Andrew Cuomo, who was his state's top prosecutor, raised his profile as a crusader for consumer rights," the news article said.
Given California's giant auto and utilities markets, Harris can position herself as a major player in shaping federal climate policy and in using her post to drive federal environmental policy if Washington doesn't act.
She has also signaled an interest in other high-profile battles that could garner national attention, including online privacy in social networks like Facebook, Politico reported.
"We are making decisions about suing the EPA (Environmental Protection Agency) around what we want to do around our standards, and whether there should be national standards," Harris told Politico.
"I want to use my position of leadership to help move along at a faster pace what I believe and know the Obama administration wants to do around the urgency of climate change," she said.