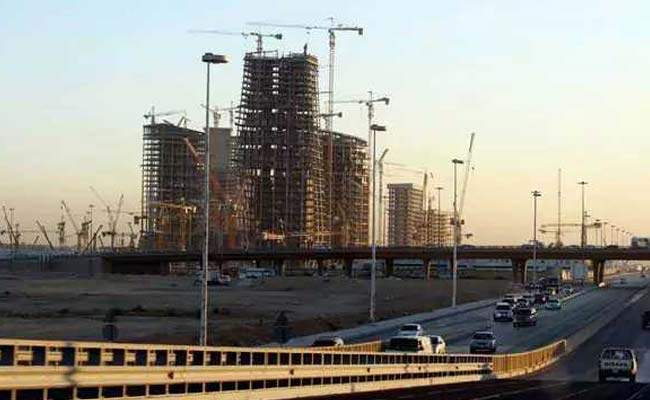 Gleaming skyscrapers rise from reclaimed land in one corner of Bahrain's capital, a new development that's a showcase for the government's effort to lure hi-tech business and move the economy beyond energy dependence.
That's a widespread aspiration in the Persian Gulf -- and the Manama skyline wouldn't be out of place among peer cities. But it's a sharp remove from the rest of Bahrain, a country that faces a challenge unique in the neighborhood. At the same time as pursuing a more diverse economy, it's battling to contain political unrest. There's another Bahrain in which security forces conduct night-time raids into villages where the Shiite Muslim majority live, while leaders of opposition groups remain jailed.
The small island nation was the only one of the Gulf's Sunni Muslim monarchies that teetered during the Arab Spring in 2011. Shiite youths inspired by their peers elsewhere in the region poured into the streets of the capital Manama to demand change. It took a military intervention led by Saudi Arabia to shore up the ruling Al Khalifa family.
The country has suffered as an investment destination ever since, leaving Bahrain's public finances in a perilous state and its markets lagging behind Gulf peers. And that's the backdrop for Bahrain's current drive to reboot its economy, with support from its wealthier neighbors.
New Planes
The government is pushing a plan to expand industries from metals to tourism and lure global business. It recognizes that stability "comes through economic prosperity," Zayed Al Zayani, the minister of industry, commerce and tourism, said last month in an interview, one of several arranged by the country's Economic Development Board.
Bahrain wants to more than double the fleet of national carrier Gulf Air over four years, with purchases including 10 new Boeing Dreamliners, said Al Zayani. Work on the first stage of a new airport terminal should be done within a year, and there's discussion of a second causeway to neighboring Saudi Arabia, according to Kamel Ahmed, minister of transportation and telecommunications.
Those links may enhance Bahrain's appeal to business, and also to tourists from the Gulf and beyond, another part of the government's strategy. With more relaxed rules on alcohol and entertainment, Bahrain attracts large numbers of Saudi visitors who drive across the bridge for weekends.
In a boost for manufacturers, state-controlled Aluminium Bahrain will increase production by about 50 percent to 1.5 million tons in the first quarter of 2019, with half of it going to domestic industries. "That's an incentive for the private sector to invest," Al Zayani said.
Saudi 'Drip-Feed'
But before achieving any of those mid-term goals, officials may have to stave off a more immediate crisis. For all the talk of diversification, Bahrain's economy is dependent on hydrocarbons, like Gulf peers, and its finances are more fragile than most.
It needs oil at $118 a barrel, almost twice the current price, to balance this year's budget. Bahrain's debt is rated junk by the three major rating companies. Its foreign reserves have plunged by about half since 2014. Many economists predict that the government will soon be forced to turn to allies for more aid -- which may come with strings attached, in the form of demands for unpopular spending cuts.
"The public finances are a mess and fiscal austerity needs to be stepped up," said Jason Tuvey at Capital Economics in London. "It's not inconceivable that Bahrain becomes wholly dependent on a drip-feed of financial support from Saudi Arabia in the near future."
The protests and their suppression have weakened Bahrain's economy. Banks including Credit Agricole SA left the country or scaled back operations after 2011; construction projects got held up; private carrier Bahrain Air went bust, blaming an "unstable political and security situation."
'Too Important'
But Bahrain's simmering revolt also mobilized allies who have much at stake.
The kingdom's rulers are Sunni, and its population mostly Shiite. Protesters and activists in Bahrain are routinely accused of taking orders from Shiite-led Iran. And since Iran is Saudi Arabia's bitterest enemy -- the countries are on opposite sides of wars in Syria and Yemen -- that makes Bahrain's small economy "too important to fail," according to the Brookings Institute.
To finance its development plans, the government is drawing on a $7.5 billion fund set up by the Saudis, along with the United Arab Emirates and Kuwait, to stabilize Bahrain after the Arab Spring protests.
Some things haven't changed much since that uprising.
This month, the government announced that 116 people were detained in raids said to target a network backed by Iran. Bahrain imposes "undue restrictions on freedom of association," according to Amnesty International's latest report. It said authorities have routinely "detained, interrogated and prosecuted human rights defenders, political activists and Shiite clerics who expressed criticism of government policies, or criticism of Saudi Arabia." The main Shiite political party is banned.
'What We Have'
But the country has succeeded in attracting some investors, helped by living costs that are low by Gulf standards, and relatively limited red tape. Bahrain currently ranks second behind the U.A.E. among Middle East and North African countries in the World Bank's Ease of Doing Business index.
Amazon Web Services picked Bahrain for its first ever data centers in the Middle East.
On a smaller scale, Saudi citizen Abdulaziz Al Jouf has employees from 16 nations at his Manama-based online payment company, and says he's adding as many as 15 per month. "From a cost perspective, as a company, human capital is much easier to attract" to Bahrain, the 36-year-old said.
Al Jouf described the government as "business-friendly." Ahmed, the telecoms minister, said it has to be.
Bahrain has no alternative but to attract technology-based startups and entrepreneurs, according to Ahmed. "We are not blessed with high levels of gas and oil and we cannot compete" in that industry, he said. "We have what we have."