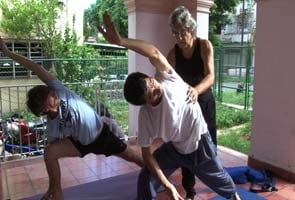 Havana:
Like most island nations, very little in Cuba gets going before 10 am. Unless you happen to walk into the Vidya Yoga centre in Havana. Cuban's of all ages and gender are busy down-dogging and being cobras.
Yoga has been practiced in Cuba since the 50's, but its growth surged as a reaction to world events. In the 1990s, the Cuban Ministry of Public Health officially recognised natural and traditional medicine like Yoga and Acupuncture in the National Health program. Economic support to Cuba disappeared when the Soviet Union collapsed in 1991; the US embargo also created a shortage of medicines. Yoga's time had come.
Eduardo Pimentel, the founder of the more than 20-year-old Cuba Yoga Association explains, "So the Cuban government needed different ways to support health care and they began to promote Yoga and say it is good for health."
To make it more accessible and affordable to a broader population, in the summer, the Cuban government broadcasts basic yoga postures on national TV. Pimentel who is considered the face of yoga in Cuba is also the instructor in these TV programs. Addressed sometimes as Maestro Pimentel, he has been practicing Yoga for over 40 years and began studying from a book. He has trained in the US and in India at the Yoga Institute of Jayadeva Yogendraj and at the Paramanth ashram in Rishikesh.
Edgar Perez, a Yoga practitioner gushes, "I think that yoga is the most important thing that India has shared with the world. "There are currently about 25 instructors presently in Cuba, all of whom have undergone an intensive teacher-training program.
An American instructor-in-training Kim has an explanation for Yoga's popularity in Cuba. She says it is "because Cubans are looking for freedom... freedom in their hearts... and yoga provides this."
In November 2011, under President Raul Castro, Cuba announced its most important economic reforms to date and also created a small window for private entrepreneurship. Eduardo Pimentel took the opportunity to register his Vida Yoga Studio as a private enterprise. He now pays 100 Cuban pesos a month and 10% of the profit to the government, as a license fee. It gives him self-respect to be " able to contribute to the Cuban economy" he says. He still holds free community classes at least once a week.