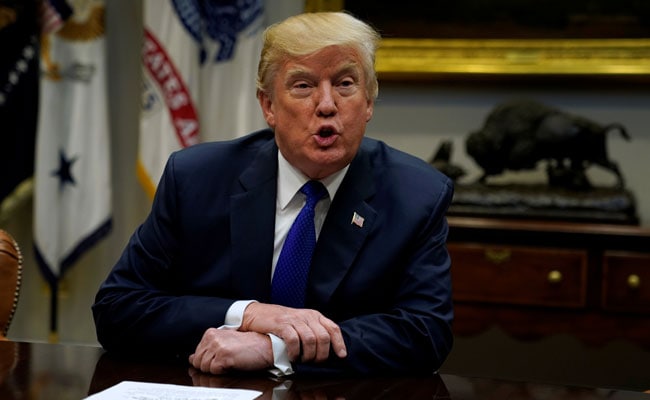 With barely two days before the US government runs out of money, and President Donald Trump feuding with Democrats over immigration, Republican congressional leaders scrambled Wednesday to avoid an embarrassing federal shutdown.
A bipartisan deal on immigration that would shield some 700,000 people from deportation lay in tatters after the president's reported use of vulgar language during a tense White House meeting last week set off clashes with key Democrats.
The opposition party have been pushing for any budget agreement to include a deal on the future of the so-called "Dreamers" who were brought to the country illegally as children and are set to lose their protected status on March 5.
But with a Friday midnight deadline looming, Republicans are angling for a temporary bill that extends federal spending into mid-February, re-authorizes funding for a threatened children's health insurance scheme for six years, and scraps some health-related taxes -- with no immigration-linked measure included.
"I feel that it makes no sense for Democrats to try and bring us to a shutdown," House Speaker Paul Ryan told a press briefing, seeking to pin the blame on the minority as the clocked ticked down.
"I think cool heads hopefully will prevail on this."
Congressman Jason Lewis, a rank-and-file Republican, made a more direct pledge.
"We're not going to shut the government down," he said.
But even the Republican stop-gap measure could face opposition from far-right conservatives.
Ryan will have to win over key skeptics to get the temporary spending bill passed, particularly if Democrats unanimously oppose a measure with no agreement to protect the "Dreamers."
Republican leadership is well aware of how poorly a shutdown will reflect on their party, which controls both houses of Congress and the White House and is headed for crucial mid-term elections in November.
Trump reversal
Frustrations over the immigration deadlock boiled over in New York, where three people were arrested outside Schumer's office, and in Washington, where police said 82 people were arrested in a Senate office building during a protest urging protection of immigrants.
"I am undocumented, I am a DACA holder, and each day that passes by a lot of young undocumented lose their DACA and are put at risk," said a 23-year-old college student who identified herself as Dennise, one of those arrested in New York.
Dennise said she arrived from Mexico when she was five years old.
Publicly Republicans have expressed support for resolving the immigration issue before the Deferred Action for Childhood Arrivals (DACA), a program implemented during the Obama administration but rescinded by Trump, expires in March.
But in a moment of bluntness, Senate Majority Leader Mitch McConnell addressed the lack of clarity from the White House.
"I'm looking for something that President Trump supports, and he's not yet indicated what measure he's willing to sign," McConnell told reporters.
"As soon as we figure out what he is for, then I would be convinced that we were not just spinning our wheels."
Last week Trump told lawmakers he would sign an immigration reform bill as soon as negotiators concluded a deal and it passed Congress.
But days later he reversed course, rejecting a bipartisan plan submitted to him at a White House meeting during which he also reportedly lashed out at immigration from "shithole" countries.
Deal all but dead
The Senate's top Democrat, Chuck Schumer, said senators Wednesday would unveil the text of their bipartisan plan, which aims to address the four issues insisted on by Trump: a reasonable DACA fix; limits to the green card visa lottery and the family reunification program also known as "chain migration;" and improved border security.
But with McConnell reluctant to put forward a deal previously rejected by Trump, it is all but dead.
Schumer pinned the prospect of a shutdown on Republicans, saying it would rest on their and "the president's shoulders."
He said the latest Republican budget bill proposals offer no help for fighting opioid addiction, no extra funding for veterans or pensioners, and little in the realm of boosted defense spending.
Ryan insisted a House bill would indeed address military spending.
Both parties have warned that passing a continuing resolution -- funding government at 2017 rates -- would hurt the military as it would not allow for extra funding to improve defense readiness.
(This story has not been edited by NDTV staff and is auto-generated from a syndicated feed.)