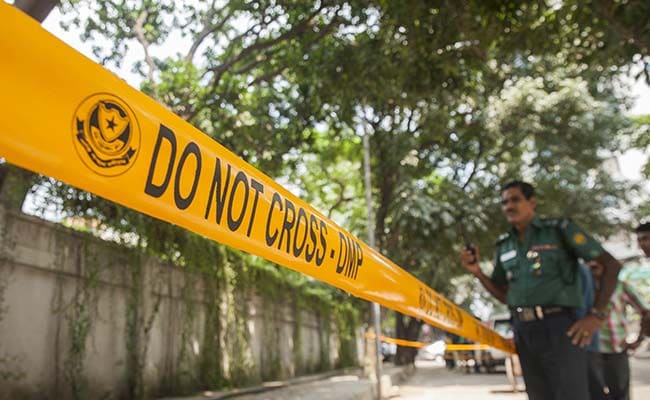 Dhaka:
Suspected Islamists claiming to be the ISIS followers have threatened to kill a Hindu priest of the Ramakrishna Mission in Dhaka if he continues to preach in "Islamic Bangladesh", prompting authorities to tighten security around the area.
"The security of the (RK) Mission has been intensified as the priest filed a general diary with us," duty officer of the city's Wari police station told PTI.
The officer declined to disclose the name of the priest. The mission officials were not immediately available for comments but police said the priest received the threatening letter last evening on a computer-composed ISIS letterhead with perpetrator identifying him as one AB Siddiqui.
"Bangladesh is an ISIS. You can't preach your religion here. If you continue preaching, you'll be hacked to death with machetes between the 20th and 30th," the officer quoted the letter as saying.
The letter, he said, did not mention any month. Last evening, a 50-year-old Hindu Mathematics lecturer at the Nazimuddin Government University College, was hacked with lethal weapons by the attackers who stormed his residence in Madaripur in southwestern Bangladesh.
The lecturer is the only Hindu victim to survive an attack by the Islamists, who have hacked to death four other members from the community in recent months.
Suspected Islamists have killed a number of secular activists, Hindus and other minorities across the country in recent months prompting authorities to launch a nationwide anti-terrorist clampdown since Friday.
Bangladesh authorities have detained nearly 12,000 people in a nationwide crackdown to halt a spate of deadly attacks.
Some of those arrested were linked with outlawed Jamaatul Mujahedeen Bangladesh.
Though most of the attacks were claimed by the Islamic State or its affiliates and other similar extremist groups, the Bangladesh government has repeatedly dismissed the claims and said the attacks were carried out by homegrown outfits linked to the opposition Bangladesh Nationalist Party.