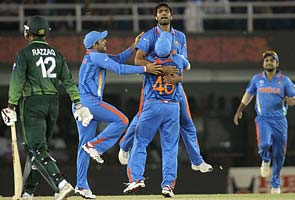 Islamabad:
Pakistanis were shattered by the cricket team's defeat in the World Cup semifinal, causing the death of three men from heart attacks.
In Karachi, a comedian died while participating in a TV show organised for the Pakistan-India match.
Daily Times reported that comedian Liaqat Soldier, 55, died due to a heart attack.
Liaqat started his career as an actor in 1973 and performed in over 250 television plays, besides numerous stage dramas across the globe during his 38-year career.
Liaquat, who performed in different countries, including India, also wrote and directed about 50 dramas.
Two more Pakistanis died of heart attacks after the team lost to India.
An unidentified 65-year old man of Rasheed Town in Peshawar and a resident of Sialkot in Punjab province died, Dunyanews reported.
"Cricket fans in various other cities showed their aggression after Pakistan's defeat," it said, without elaborating.
It added: "The whole nation ... simply got disappointed. Fans watching live screening returned to their homes during the last overs of the match."
India on Wednesday beat Pakistan by 29 runs at Mohali where Pakistani Prime Minister Yousuf Raza Gilani and his Indian counterpart Manmohan Singh were present. India will now play against Sri Lanka in the final at Mumbai.