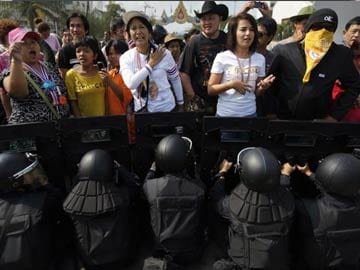 Bangkok:
Dozens of gunshots and at least two explosions raised tensions amid anti-government protests in the Thai capital on Saturday, a day ahead of a general election seen as incapable of restoring stability in the deeply polarised country.
At least three people were wounded in the violence in front of a suburban shopping mall in the north of Bangkok. Gunmen among the crowds could be seen hiding their weapons before backing away from the shooting.
Sporadic gunfire continued as the sun began to set.
It was not immediately clear whether the demonstrators or those wounded were the government's supporters or its opponents, some of whom are aiming to block ballotting in an election almost certain to return Prime Minister Yingluck Shinawatra to power.
The attack took place in Bangkok's Laksi district, close to the Don Muang airport, a stronghold of Yingluck's Puea Thai Party. Her supporters had gathered to demand Sunday's ballot is not obstructed.
Ten people have died and at least 577 have been wounded in politically related violence since late November.
The protesters took to the streets in the latest round of an eight-year conflict broadly between Bangkok's middle class, southern Thais and the royalist establishment against the mostly rural supporters of Yingluck and her brother, former premier Thaksin Shinawatra, who was ousted in a 2006 coup.
Protest leader Suthep Thaugsuban has called for a peaceful blockade of roads, but at the same time has vowed not to stop people voting.
"The people will not close the polling booths, but will demonstrate on the roads. They will demonstrate calmly, peacefully, without violence ... We won't do anything that will hinder people from going to vote," Suthep said on Friday night.
Election Commission secretary-general Puchong Nutrawong said preparations were "almost 100 percent ready" in the north, northeast and central provinces, but that there were problems getting ballots to districts in Bangkok, as well as 12 provinces in the south, where demonstrators had blocked delivery.
The commission has instructed staff to halt voting if there is rioting or violence.
"We don't want this election to be bloody. We can get every single agency involved to make this election happen, but if there's blood, what's the point?" Puchong told Reuters.
"...If there is continued obstruction, I pray only that there is no fighting and no coup."
The military has stayed firmly on the sidelines so far, in contrast to the past - it has a history of having staged or attempted 18 coups in 81 years of on-off democracy.

LEGAL CHALLENGES
The main opposition Democrat party, which backs the anti-government protests, is boycotting the election, which Yingluck's party is bound to win, though without enough members to achieve a quorum in parliament, guaranteeing further stalemate, at best, even if the election passes off peacefully.
Election commissioner Somchai Srisutthiyakorn wrote on his Facebook page about the possibility of the poll being voided altogether.
"After the February 2 vote, there will be people filing lawsuits for the election to be voided immediately, citing various reasons that they will put forward, such as the general election must be held on one day or violate the constitution, which would make it likely that 3.8 billion baht will have been spent for nothing," Somchai wrote.
Puchong said the commission was doing its best to adhere to the law and any speculation about the vote being annulled was for the courts to decide.
Many protesters in Bangkok wore red, the colour of Yingluck's "red shirt" supporters, in Saturday's march, after Suthep said no one had the right to hijack a colour. There were unconfirmed media reports of an explosive device being thrown near the Chinatown area, but there were no injuries.
The protesters, camped out at major intersections in the city and blocking key arteries, forced polling stations in 49 of Bangkok's 50 districts to shut last weekend and voting could only go ahead in three of 15 southern provinces. Some voters were physically pulled away from the polling booths.
Suthep wants to rid the country of the Shinawatra family's political influence and accuses Yingluck, who swept to power in the last election in 2011, of being Thaksin's puppet.
The protesters say Thaksin is a corrupt crony capitalist who commandeered Thailand's fragile democracy, using taxpayers' money to buy votes with populist giveaways. Thaksin has chosen to live abroad since 2008 to avoid a jail term for graft.
He or his allies have won every election since 2001. His supporters say he was the first Thai political leader to keep campaign promises to help the poor.
Suthep wants to set up a "people's council" of notable individuals before another election is held.
The prolonged unrest has hurt tourism and the central bank says the economy may grow only 3 percent this year, rather than the 4 percent it had forecast.
© Thomson Reuters 2014