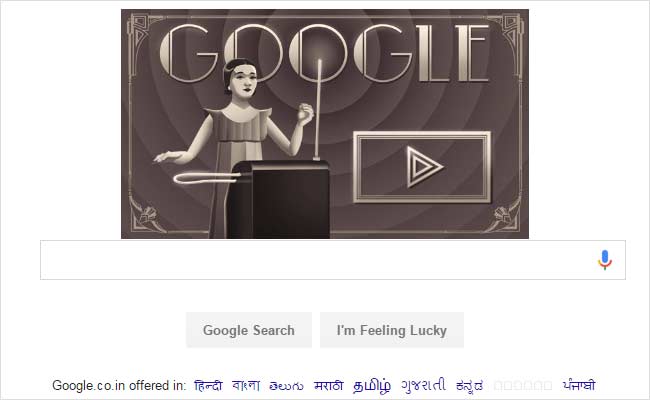 New Delhi:
Celebrating the 105th birthday of Clara Rockmore, an electronic music pioneer, Google produces an animated musical doodle. A Lithuanian virtuoso performer, Clara Rockmore was born on March 9, 1911.
Clara studied violin under the virtuoso Leopold Auer, but due to bone problems, a result of childhood malnutrition, she had to quit playing it.
However, this led her to discover the newborn electronic instrument the theremin, a gesture-controlled instrument, and become perhaps its most renowned player. In 1977, she released a commercial recording called The Art of the Theremin.
Today's interactive doodle is created by artist Robinson Wood, interaction designer Kevin Burke, and engineers Will Knowles and Kris Hom (with support from the larger Doodle engineering team). The team rendered the movement used to play the theremin-one hand controlling pitch and the other volume. Sound designer Manuel Clement helped with the button sound effects.
The doodle involves the user through musical lessons trying to explore how theremin actually functions. You have three lessons to learn and explore music and it is for all age groups.