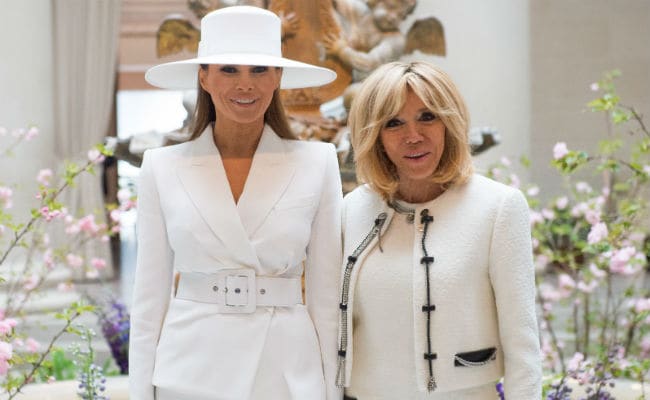 Washington:
Melania Trump and Brigitte Macron split off from their husbands on Tuesday after a colorful welcoming ceremony at the
White House
to visit a Paul Cezanne exhibit at the National Gallery of Art.
The American and French first ladies spent about half an hour visiting the show of 59 portraits by the 19th century French painter, the first ever dedicated to this aspect of his work.
Trump and Macron
, both dressed in white, were accompanied on the tour by Mary Morton, who co-curated the exhibit and heads the museum's department of French paintings. The US first lady was wearing a wide-brimmed white hat.
"Paul Cezanne's work is a celebration," Melania Trump said in a statement released by the White House. "It was perfect timing to have these exquisite paintings in Washington while Mrs Macron was in town."
Macron and Trump chatted together and with Morton and Frank Kelly, senior curator of American and British painting, as they toured the museum.
Besides the Cezanne exhibit, the White House said they viewed paintings by 19th century American artist Mary Cassatt and the "Ginevra de' Benci," the only painting by Leonardo da Vinci in the Americas.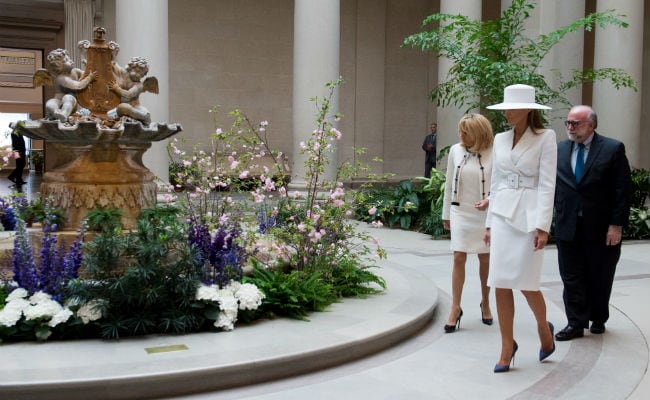 "Everyone understands the language of art," Melania Trump said. "The historically famous and beautiful works that currently live in the National Gallery of Art are breathtaking."
Asked by a journalist if she was enjoying her visit to Washington, Brigitte Macron replied in English: "Very nice, thank you."
French President Emmanuel Macron and his wife arrived in Washington on Monday for a three-day visit.
They were given a welcoming ceremony full of pomp and circumstance and a 21-gun salute at the White House early Tuesday.
The Trumps will host an
elegant state dinner
at the White House for the French couple on Tuesday evening, the first state dinner of the Trump presidency.
Late Monday, the
US and French presidents
and their wives dined at Mount Vernon, the home on the banks of the Potomac River of George Washington, the Revolutionary War hero and first American president.
During a visit to Paris in July, Macron and his wife took the Trumps to dinner in the Eiffel Tower.
(This story has not been edited by NDTV staff and is auto-generated from a syndicated feed.)