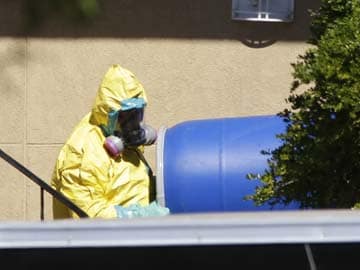 London:
An experimental Japanese flu drug that has hit the headlines because of its potential to fight Ebola may also work against norovirus, the winter vomiting bug, British researchers said on Tuesday.
As with Ebola, the research is still at an early stage but a study in mice found that Fujifilm's Avigan, or favipiravir, was effective at reducing -- and in some cases eliminating -- norovirus infection.
The drug works by causing the virus to self-destruct in a process known as "lethal mutagenesis", which causes errors in its genetic information. In effect, the virus mutates itself to death.
Clinical trials of Avigan, developed by Fujifilm group company Toyama Chemical, as a treatment for Ebola are set to start in Guinea in mid-November and the Japanese company said on Monday it was stepping up production of the medicine.
The findings from the norovirus study in mice were published by a team of researchers at the University of Cambridge in the journal eLife.
© Thomson Reuters 2014
Get Breaking news, live coverage, and Latest News from India and around the world on NDTV.com. Catch all the Live TV action on NDTV 24x7 and NDTV India. Like us on Facebook or follow us on Twitter and Instagram for latest news and live news updates.