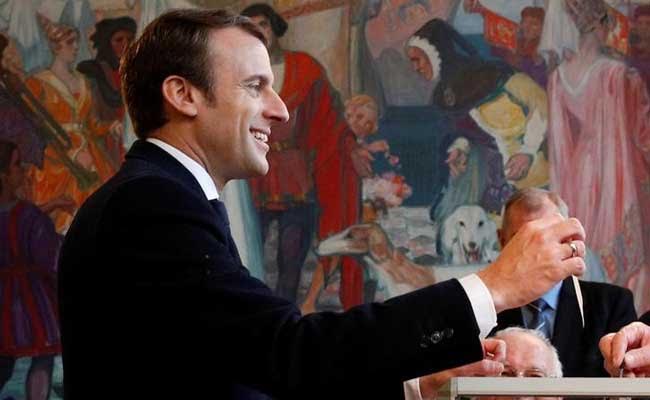 Paris:
French voters were choosing on Sunday between pro-European Union and a eurosceptic for their next president, with early figures indicating a relatively low turnout. Opinion polls predicted that the 39-year-old former economy minister Emmanuel Macron would win the five-year presidency, seeing off the National Front's Marine Le Pen after an election campaign full of scandal and upsets.
Voting was not due to end until 8 pm local time, but Belgian media published what they said were the results of surveys taken on Sunday by three unnamed opinion pollsters among people who had voted or intended to vote.
The Belgian public broadcaster RTBF said the surveys put Macron's share of the vote at between 62 and 64 per cent.
The information could not be verified by Reuters. Pollsters are not allowed to publish election-day surveys in France before voting closes.
The last opinion polls on Friday gave Macron between 61.5 and 63 per cent of the vote. Forecasts of the result proved accurate for the tight first round race between 11 candidates last month.
A victory for Macron, who wants to deregulate the economy and deepen EU integration, would contrast with recent nativist, anti-globalisation voting outcomes like those that will see Britain quit the EU and made Donald Trump US president.
Should an upset occur and Le Pen win, the very future of the EU could be on the line, given her desire to close borders, dump the euro currency, and tear up trade treaties.
But even in defeat, the 48-year-old's vote is likely to be about twice what her party scored the last time it reached the presidential second round in 2002, demonstrating the scale of voter disaffection with mainstream politics in France.
By midday, both candidates had voted, he in Le Touquet on the north coast, and she in the northern town of Henin-Beaumont.
Figures from the Interior Ministry said 28.23 per cent of voters had turned out by midday, the lowest at that point since the 2002 presidential poll, when it was 26.19 per cent. A poll on Friday had predicted a final turnout of 75 per cent, down from over 80 per cent in 2002, 2007 and 2012.
Pollsters see likely abstentions as highest among left-wing voters who feel disenfranchised by Sunday's choice.
It remained unclear what the final turnout would be, and what a high or low showing could mean for the outcome. One extra unknown is the level of blank and spoilt ballot papers.
Markets have risen in response to Macron's widening lead over his rival after a bitter television debate on Wednesday.
"We increased our equity exposure and added some French stocks after the first round," said Francois Savary, chief investment officer at Geneva-based fund management firm Prime Partners. "The major political risk of a Le Pen victory appears to be disappearing."
After a campaign in which favourites dropped out of the race one after the other, Le Pen is nevertheless closer to elected power than the far right has been in France since World War Two.
If opinion polls prove accurate and the country elects its youngest-ever president rather than its first female leader, Macron himself has said himself he expects no honeymoon period.
Close to 60 per cent of those who plan to vote for Macron say they will do so to stop Le Pen from being elected to lead the euro zone's second-largest economy, rather than because they fully support the former banker turned politician.
"I don't necessarily agree with either of the candidates," psychotherapist Denise Dulliand, who was voting in Annecy in the mountainous southeast, told Reuters.
"But I wanted to express my voice, to be able to say that I came, even if I am really not satisfied with what is happening in our country, and that I would like to see less stupidity, less money and more fraternity."
MORE ELECTIONS TO COME
The battle between mainstream and more radical policies in France will continue into parliamentary elections next month in which the new president will try to secure a majority in parliament. One poll this week suggested that was within reach for Macron.
Much will also depend on how the candidates score on Sunday. Le Pen's niece, Marion Marechal-Le Pen, on Thursday told L'Opinion daily that winning 40 per cent of the vote would be "a huge victory" for the National Front.
Whoever wins will open a new chapter in French politics, after the big left- and right-wing movements that have ruled France for decades both suffered humiliating defeats in the election's first round.
The campaign suffered yet another surprise on Friday night, just as the quiet period in which politicians are forbidden from commenting began. Macron's team said a massive hack had dumped emails, documents and campaign-financing information online.
With security a prime concern, more than 50,000 police officers were on duty on Sunday. A series of militant attacks in Paris, Nice and elsewhere in France have killed more than 230 people in recent years.
The courtyard of the Louvre Museum in Paris, where Macron is due to speak after the result, was briefly evacuated on Sunday after a suspect bag was found.