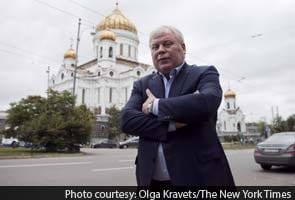 Moscow:
Anatoly Kucherena did not understand the email he received this month, signed Edward Joseph Snowden. So he turned to an assistant in his law firm who speaks English. "I asked Valentina, 'Is it a joke?'" Kucherena said. It was not.
The email has since thrust Kucherena into the center of the fight over the fate of Snowden, the former intelligence contractor wanted in the United States for disclosing the National Security Agency's surveillance efforts. Days after he joined a group of Russian public figures at a surreal meeting in the international transit lounge of Sheremetyevo airport July 12, Snowden asked Kucherena to take up his case for political asylum here. And he agreed, pro bono.
That has made him the architect of Snowden's effort to remain in Russia, and effectively his unexpected public champion. Since he is one of the few people who meet with Snowden, he has been besieged for updates in the proceedings - a decision, which had been expected imminently, could now be weeks away - and also for hints to his client's strategy and mood as his odyssey unfolds.
"He has this struggle inside himself," Kucherena said the other day in a restaurant near the Kremlin that he has turned into an unofficial office since the whirlwind of news media attention circled on him. He emphasized that he was certain of the sincerity of the choice Snowden made between his conscience and the oath he took to protect classified information. "He is absolutely convinced that he did the right thing to tell the American people what was going on," he said.
It was Kucherena who counseled Snowden to abandon his appeals for political asylum in more than 20 other countries, arguing that they had no legal standing while he remained on Russian soil. Instead he helped Snowden file the request for a form of temporary refuge here to avoid a drawn-out review that would ultimately end up on the desk of President Vladimir V. Putin.
He said repeated statements by the U.S. State Department and members of Congress had bolstered his case for asylum, despite a letter from Attorney General Eric H. Holder Jr. to his Russian counterpart promising that Snowden would receive a fair trial and disputing Snowden's assertions that he faced torture or the death penalty if he returned to the United States.
"This is in the realm of big politics," Kucherena said of the case. He added, though, that Snowden's appeal was a purely legal matter that would prevail on the merits. "I am a lawyer. I don't want to be involved in big politics."
Kucherena's role has increased his prominence in Russia. Like many defense lawyers in a country where justice is viewed as deeply politicized, he occupies an occasionally awkward space between challenging authority and being part of the system itself. At the same time, he is a political supporter of Putin's and serves on the Public Chamber, an advisory body that critics have long derided as a Potemkin construct of actual government oversight. He also serves as a member of another board that oversees the Federal Security Service, or FSB.
Those roles have prompted accusations that the Kremlin is orchestrating events behind the scenes and that Kucherena has ties to the authorities or the security service itself, which he disputed. He said he had had no contact with anyone in power since Snowden hired him and he noted that his previous clients included those who stood accused by the FSB, including a diplomat and writer named Platon Obukhov, who was convicted of spying for Britain in 2001 though later was declared psychologically unfit to serve his sentence behind bars.
Kucherena said Snowden, who has been following the news about his case intently on his computer in a hotel at the airport, complained to him that such assertions were meant to discredit him and his case, especially in the United States.
Only Snowden knows why he settled on Kucherena to represent him. But he was one of two lawyers, along with Genri M. Reznik, who attended the airport meeting along with representatives of advocacy groups like Amnesty International and Human Rights Watch that have faced harassment from the authorities, especially since Putin returned to the presidency for a third term last year.
Snowden selected those who attended from a list drafted at his request by officials from the border police who control access to the transit lounge. Tanya Lokshina of Human Rights Watch, who also attended, described Kucherena as a capable lawyer who also remained a "staunch loyalist" of the Kremlin.
"He portrays himself and is being portrayed by the Kremlin as an independent actor and one of the pillars of the Russian legal community," she said, adding that he was "one of those figures whom the Kremlin pushes forward when accused of stifling civil society."
Kucherena, who turns 53 next month, is certainly no dissident. Nor is he simply a product of the Soviet legal system, having joined the bar only in 1993. He was born in a tiny village in what is now Moldova and served as a sergeant in the Soviet Union's strategic rocket forces before moving to Moscow to become an officer of the traffic police. He leveraged that job into acceptance for a correspondence course at the Moscow Legal Institute in 1985, which he completed six years later, just as Russia began its chaotic legal evolution.
He is a prolific author of books and textbooks and often appears as a commentator on television, something exceedingly rare for avowed opponents of Putin's authority.
His legal reputation soared when he successfully defended Sergei Lisovsky, an entertainment mogul, after he was arrested during Boris N. Yeltsin's re-election campaign in 1996 while he and another campaign adviser were carrying a box stuffed with $500,000 in cash out of the presidential administration's headquarters.
His clients have since included rich celebrities - among them Iosif Kobzon, a singer; Nikita Mikhalkov, a film director; and the director of the famed Taganka Theater, Yuri Lyubimov - but also ordinary people ensnared in Russia's judicial system. One of his most celebrated victories was the reversal of the conviction of a railroad worker charged with negligence in the death of a Siberian governor during a car accident that was not his fault, a case that caused public protests across the country.
Sergei Nikitin, the head of Amnesty International in Russia, who also met Snowden, said Kucherena's success seemed to depend on carefully choosing his cases to avoid ones that could create problems with the authorities. "I think that is his talent, to feel which way the wind is blowing," he said. "He knows when it's worth doing something and when it's better to stay away."
He also has experience dealing with U.S. extradition requests. He previously represented Alimzhan T. Tokhtakhounov, the reputed mafia boss known as Taiwanchik, whom the United States has been pursuing on a variety of charges since it first accused him of fixing figure-skating events at the Olympics in Salt Lake City in 2002. Tokhtakhounov, who lives in Moscow and denies the accusations, said in a telephone interview that Kucherena had defended him well. "He's a big guy, but he's also an ordinary lawyer," he said. "You pay him money and he will defend you."
As for Snowden, Tokhtakhounov offered advice from his own experience: "It's horrible to live on the wanted list."
© 2013, The New York Times News Service