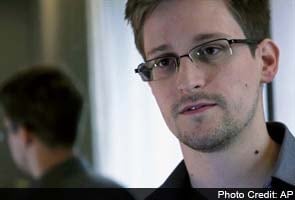 Moscow:
Edward J Snowden, the fugitive former National Security Agency contractor wanted by the United States for leaking classified documents about global US surveillance, fled his Hong Kong hide-out for Moscow on Sunday aboard a Russian jetliner, in what appeared to be the first step in an odyssey to seek political asylum in another country, possibly Ecuador or Venezuela.
In a day of frustration and dramatic scrambling by US officials who are seeking Snowden's extradition, he boarded an Aeroflot jetliner in Hong Kong that reached Moscow on Sunday afternoon. The Russian Foreign Ministry said Snowden was in a Moscow airport transit area, apparently awaiting a connection to another country.
Ecuador's foreign minister said that Snowden had submitted a request for asylum. WikiLeaks, the organization that discloses government secrets and has come to the assistance of Snowden, also said his destination was Ecuador. In a statement on its website, WikiLeaks said "he is bound or the Republic of Ecuador via a safe route for the purposes of asylum, and is being escorted by diplomats and legal advisors from Wikileaks."
Snowden's disclosures of far-reaching US government snooping into Internet and telephone records around the world has set off a major debate in the United States over government invasion of privacy. Snowden and his allies, including WikiLeaks, have called him a whistle-blower. US officials, who call the surveillance necessary to thwart terrorist plots, have called his actions criminal and last week announced they were charging him with violations of espionage laws.
The United States had asked Hong Kong authorities to find and detain Snowden, where he has been in hiding for the past few weeks, but the Hong Kong government said Sunday that it had requested clarifications about the request and legally could not stop him from boarding the flight to Moscow. A statement by the Hong Kong government - the first official word that Snowden had fled the territory - said it had informed the United States of his departure.
Russia's Interfax news service, citing a "person familiar with the situation," reported that Snowden would remain in transit at an airport in Moscow for "several hours" pending an onward flight to Cuba, and would therefore not formally cross the Russian border or be subject to detention.
Ricardo Patino Aroca, the foreign minister of Ecuador, said "The Government of Ecuador has received an asylum request from Edward J Snowden" in a Twitter message. But Russia's Interfax quoted an unidentified person close to Snowden as saying he planned to continue to Caracas, Venezuela.
"He chose such a complex route in the hope that he will not be detained and he will be able to reach his final destination - Venezuela - unhindered," the person was quoted as saying.
Both Venezuela and Ecuador have long expressed antipathy toward what they consider arrogant U.S. policies in Latin America, and it would not be a surprise if they took action to shelter Snowden.
WikiLeaks said in a statement on its Twitter feed that it had "assisted Mr. Snowden's political asylum in a democratic country, travel papers" and safe exit from Hong Kong, and said in a follow-up Twitter post that WikiLeaks legal advisers had accompanied him to Moscow.
An Aeroflot agent said that Snowden had traveled with one other person, with the last name Harrison. The closest adviser to Julian Assange, the WikiLeaks founder who orchestrated the release of the WikiLeaks diplomatic cables three years ago, is named Sarah Harrison, prompting speculation that she was the Harrison on the flight with Snowden. In a statement, WikiLeaks later confirmed Harrison was assisting Snowden.
His departure from Hong Kong was a setback for the United States, which had been pressing Hong Kong to surrender him to US law enforcement officials. The Hong Kong government said on Sunday, in its first detailed statement about Snowden, that the United States had made a legal request for the issue of a provisional warrant of arrest against Snowden, but that the Hong Kong government had concluded that the request "did not fully comply with the legal requirements under Hong Kong law."
The statement said that Hong Kong had requested more information from the United States but had not received it. Because the government "has yet to have sufficient information to process the request for provisional warrant of arrest, there is no legal basis to restrict Mr. Snowden from leaving Hong Kong," the statement said.
In a statement Sunday, a Justice Department spokeswoman, Nanda Chitre, confirmed that the Hong Kong authorities had told Washington of Snowden's departure and said that the government would pursue Snowden's case. "We will continue to discuss this matter with Hong Kong and pursue relevant law enforcement cooperation with other countries where Mr Snowden may be attempting to travel," Chitre said.
The statement from the Hong Kong government also said it had written to the United States government to ask for clarification about news media reports that Snowden had released documents showing that United States government agencies had hacked computer systems here, adding that the Hong Kong government, "will continue to follow up on the matter so as to protect the legal rights of the people of Hong Kong."
Late Saturday, a Hong Kong newspaper, The South China Morning Post, reported additional details of the NSA's spying on Hong Kong and China, apparently based on an interview with Snowden on June 12. Snowden told the newspaper that the NSA had tapped into Chinese mobile phone companies to read millions of text messages, hacked dozens of computers at the prestigious Tsinghua University in Beijing and other computers operated by Pacnet, a major telecommunications company with headquarters in Hong Kong and Singapore.
While there was no independent confirmation of the claims, all the operations described by Snowden are consistent with the NSA's aggressive monitoring of foreign communications. And the newspaper's report could win Snowden more public support in China and Hong Kong.
In Moscow, Dmitri S Peskov, a spokesman for President Vladimir V Putin of Russia, said the Kremlin had not been informed of Snowden's plans to travel to Russia.
"I don't know if he is coming with a visa or without a visa," Peskov said. "We are not tracing his movements. I am not sure if he is coming. If he is coming, we will wait and see."
He said if Snowden applies for asylum in Russia, his application would be considered, adding that every application is considered.
"There is a procedure, and it will be applied," he said. "If there is an application, it is going to be considered. If there is no application, we will do what is prescribed by law will be performed."
Asked what the law prescribes in the latter case, he said, "you'd have to ask the police about that."
He said Snowden's case was not fundamentally a concern of the Russian government.
Snowden is reportedly carrying four laptop computers with a cornucopia of US intelligence documents that he downloaded to a thumb drive this spring while working in Hawaii for the National Security Agency as an employee of Booz Allen Hamilton.
The Guardian newspaper of Britain has already disclosed a week ago that Snowden provided the newspaper with documents showing that during a conference in London in 2009, the United States was able to access the communications of Dmitry A Medvedev, then the Russian president and now the prime minister - a disclosure that will almost certainly cause Russia to review its codes and other procedures for top leaders.
Dmitri V Trenin, director of the Carnegie Moscow Center, said he considered it likely that Snowden would remain in Russia, a country that is increasingly positioning itself as a protector of people like Assange, whom Western governments wish to prosecute.
"I don't think there is any other country that would stand up to US pressure, which will be tremendous," Trenin said. "The Chinese don't want to spoil their relationship with the United States. Russia is sometimes embracing conflict with the US."
He noted that Russia Today, the state-financed English-language cable news channel, has become a platform for figures like Assange, who are unlikely to appear through mainstream Western news outlets.
"Russia is turning into a haven - virtually, intellectually and physically - for those who have an ax to grind with the West, who are whistle-blowers or have problems with Western authorities," he said. "It's the only country in the world that at this point can afford it, or thinks it can afford it."
Trenin said that even if Snowden transfers in Moscow and continues to another destination, like Havana or Caracas, Russia will still have played a central role in his flight from prosecution.
"The minute Aeroflot got the information that a certain person by the name of Snowden is about to buy a ticket, this information would be immediately transferred to the quote-unquote competent authorities," he said. "It would be a political decision to give him a ticket or deny him a ticket."
Snowden's departure could limit any damage to Chinese-American relations from his sojourn here, although US officials are likely to press ahead with their inquiries into what role, if any, China may have played in his initial choice of Hong Kong.
For Hong Kong, his departure means that the city can avoid a painful tug-of-war over whether to surrender him, with the United States demanding him back while nationalists in mainland China and some human rights activists in Hong Kong were calling for him to be allowed to remain.
Regina Ip, a lawmaker and former secretary of security in Hong Kong, predicted that the United States would initially be annoyed with Hong Kong for letting Snowden leave.
"I think your government will be upset for a while, but I hope that they will shrug it off, because our government acted in accordance with the law," she said. "Our government officials can breathe a sign of relief."
But even though Snowden left Hong Kong, he may still have handed China a considerable diplomatic and public relations coup. The state-run news agency Xinhua said in a commentary late Sunday morning, before news of his flight from Hong Kong, that Snowden's disclosures had undermined the Washington's argument that the Chinese government was guilty of widespread computer hacking.
His claims "demonstrate that the United States, which has long been trying to play innocent as a victim of cyberattacks, has turned out to be the biggest villain in our age," the commentary said.
(Sarah Lyall contributed reporting from London; Jane Perlez from Beijing; Scott Shane from Washington; Michael Schwirtz and Rick Gladstone from New York.)
© 2013, The New York Times News Service