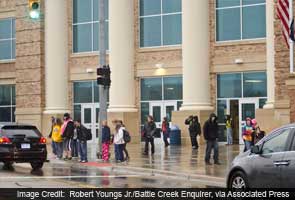 Predictions of doomsday have come and gone repeatedly without coming true. But the latest prophecy, tethered to the Mayan calendar and forecasting that the world will self-destruct on Friday, has prompted many rumours of violence, with a particular focus on school shootings or bomb threats.
With students and parents already jittery after the shootings in Newtown, Conn., last week, rampant posts on Facebook and Twitter have fed the hysteria, and police departments across the country have been inundated with calls.
Overwhelmed with the task of responding to threats and unconfirmed reports, districts in Bend, Ore.; Stafford County, Va.; Wake County, N.C.; and Oak Creek, Wis., have sent out letters to parents trying to tamp down the panic.
In three counties in Michigan, Genesee, Lapeer and Sanilac, administrators were spending so much time dealing with reports of planned violence that the superintendents decided to send 80,000 students on their winter holiday break two days early.
"We hate cancelling school more than anything," said Matt Wandrie, the superintendent of the Lapeer Community Schools, north of Detroit. "We're not doing this because we think there's an imminent threat to our students. We're doing this because we've been doing nothing but policing."
Wandrie said that students and parents were passing on rumours they had picked up online - "It was like 'my niece's neighbour's daughter says there's going to be gun violence at school on Friday,"' he said - and added that students were overheard in the hallways saying things like "Let's go out with a bang on Friday."
"If you've got students who are disenfranchised or unstable or members of a community who really believe this end of the world stuff," he said, "whether I think it's credible or not, as a fairly logical person and human being, I'm not going to take that risk."
Similar rumours prompted about 50 parents to call the police department in Oak Creek, the town in Wisconsin where a gunman shot and killed six people at a Sikh temple in August.
Chief John Edwards said his department investigated every call but found that they seemed to be repeating a version of the same rumour that had gone viral online. He said that there was "no credible evidence" of a real threat.
On Wednesday morning, Edwards visited Oak Creek High School to talk to faculty and students over the public address system, advising them that police officers stationed on campus would practice a "zero tolerance" policy for anyone making a threat.
"So if anyone makes comments about violence, you will be arrested," he said. "There will be no warnings."
Randy Bridges, the superintendent of the Stafford County Public Schools in Virginia, posted a letter to parents on the district's website telling parents that the rumors of violence accompanying the end of the world were "reportedly unfounded and national in scope."
"I ask that each of you help stop the rumours spreading throughout our community by refusing to share these rumours with others," Bridges wrote. He offered links to a source on "How to Talk to Kids about the World Ending in 2012 Rumours" and NASA's website, which promises that Friday "won't be the end of the world as we know."
Officials said that previous prognostications of the end of the world, including a prediction of what was called the rapture in May 2011, have not generated the same kind of frenzy in schools.
"I've been an officer 19 years, and never have I seen the climate in our area the way it is right now," said Sgt. Scott Theede of the Grand Blanc Township Police Department in Michigan. "I believe students and parents and everybody are a little bit more on edge as a direct result of what happened last week."
Contributing to the worry in Grand Blanc was an incident on Wednesday, when a 15-year-old high school student sent a text message to his mother that he had heard shots at school and was hiding in a closet. After the mother called 911, the police responded and found that the boy was playing what he called "a joke."
The police are considering pressing criminal charges against the boy.
But Chief Steven Solomon said that what most surprised him after the police had investigated the call on Wednesday was that students seemed more occupied with their cellphones than with their lessons.
"Twitter was lit up," he said, "and there were so many texts flowing freely among parents, friends and family members during the school day."
© 2012, The New York Times News Service