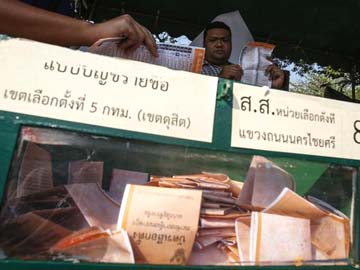 Bangkok:
Anti-government protesters planned to forge ahead on Monday with efforts to topple Prime Minister Yingluck Shinawatra, a day after a disrupted election that is unlikely to settle Thailand's long-running political conflict.
The demonstrators blocked balloting in a fifth of the country's constituencies and say Yingluck must resign and make way for an appointed "people's council" to overhaul a political system they say has been taken hostage by her billionaire brother and former premier, Thaksin Shinawatra.
Sunday's election, which the main opposition party boycotted, is almost certain to return Yingluck to power and, with voting passing off peacefully across the north and northeast, Yingluck's supporters will no doubt claim a legitimate mandate.
But the vote is unlikely to change the dysfunctional status quo in a country popular with tourists and investors yet blighted by eight years of polarisation and turmoil, pitting the Bangkok-based middle class and royalist establishment against the mostly poor, rural supporters of the Shinawatras.
The election was peaceful, apart from a few scuffles, with no repeat of the chaos seen the previous day, when supporters and opponents of Yingluck clashed in north Bangkok. Seven people were wounded by gunshots or explosions.
The protesters, led by former opposition politician Suthep Thaugsuban, have rallied in Bangkok since November to try to oust Yingluck. They wanted electoral rules rewritten before any election and have vowed to keep up the protests.
"I'm confident this election won't lead to the formation of a new government," Suthep told supporters late on Sunday.
He said it was premature for ministers to say the vote had gone smoothly.
"We will gather en masse in Bangkok once more but, before then, we will deal with Yingluck and other ministers. We will surround their houses until they cannot leave," he said.
However, Suthep is closing protest camps at two of the seven big intersections that his supporters have blockaded since mid-January, at Victory Monument and Lat Phrao, citing security reasons. A third run by an allied group at a huge government administrative complex may also be closed.
Suthep is to lead a march on Monday that will end at another camp at Lumpini Park in the centre of Bangkok.
YINGLUCK REMAINS CARETAKER PM
Voting on Sunday was disrupted in 18 percent of constituencies nationwide, 69 out of 375, the Election Commission said, affecting 18 of 77 provinces. Neither the result nor the turnout was announced.
The disruption means it could be weeks before parliamentary seats are filled, so Yingluck will remain a caretaker with no policy authority.
"Having gone through more than two months of protests, the election will strengthen Yingluck's position, but her troubles are not over yet," said Kan Yuanyong, director of the Siam Intelligence Unit think tank.
"We'll see a continuation of the conflict, the standoff remains and the likelihood of more violence could increase."
The Election Commission said it expected legal challenges to be lodged as early as Monday to try to invalidate the poll and attack the legitimacy of the government
Yingluck said the election was a "positive signal", but a lasting solution was needed.
"This election is part of the democratic process," she told reporters. "I hope all sides can help solve each of the country's problems."
The protesters say former telecoms tycoon Thaksin has subverted a fragile democracy with populist politics such as doling out subsidies, cheap loans and healthcare to woo the poor and guarantee victory for his parties in every election since 2001.
Thaksin's critics also accuse him of disrespecting Thailand's revered monarchy, which he denies.
The anti-Shinawatra demonstrators enjoy broad support from southerners and Bangkok's middle class and are tacitly backed by a royalist oligarchy that sees Thaksin as a corrupt crony capitalist and resents the rapid rise of his political order.
Thaksin has lived abroad since 2008 to avoid a jail term for a graft conviction he says was politically motivated. Critics say Yingluck is merely a stand-in for him.
Thaksin's supporters accuse the military and the establishment, including the judiciary, of colluding over the years to oust his governments.
The military, which has staged numerous coups since Thailand became a constitutional monarchy in 1932, overthrew Thaksin in 2006 but so far has stayed aloof this time.
With several cases against Yingluck and her party taken up by the courts, Thaksin's supporters fear judges might intervene again and they have threatened to stage their own protests if the government is ousted, either by the courts or the military.
© Thomson Reuters 2014